Krispy Kreme Is Unleashing New Fruit-Glazed Donuts for Spring
Get new flavors every week through May 15.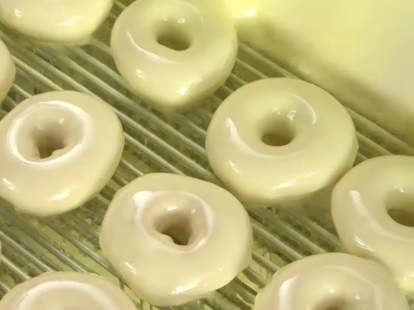 Eating your fruits and veggies is important for maintaining a balanced diet. And while health professionals might not qualify strawberry or lemon donuts as part of that, I'm running with my own interpretation on this one. Especially now that Krispy Kreme is unleashing three fruit-glazed flavors for spring. Just call me a health nut! 
But because good things come to those who wait, you're gonna have to do just that. At least, for the complete trio -- strawberry, lemon, and key lime. The sugary dough ring maker is releasing the new flavors on a weekly basis through May 15.
"These new doughnuts taste amazing. And, since you can't come inside to enjoy seeing them being glazed right now, we decided to bring the glazer to you," Chief Marketing Officer Dave Skena said in a statement.
Courtesy of Krispy Kreme
Things will kick off Tuesday, April 28 with the debut of Krispy Kreme's strawberry glazed and strawberry filled donuts, but you'll only have through Friday, May 1, to try 'em. The following week, customers can get their sweet tooth on key lime glazed and key lime filled flavors between Tuesday, May 5, and Friday, May 8. The final rotation, which will include lemon glazed and lemon filled donuts, hits stores Tuesday, May 12, before the promo ends Friday, May 15.
While I can't predict the future, it's a safe bet to assume the vast majority of Krispy Kreme locations will continue to offer drive-thru, pickup, and delivery options only. In response to the pandemic, as well as the associated government mandates, stores have adjusted hours of operation as well. So you might want to double check your local Krispy Kreme for availability.
Sign up here for our daily Thrillist email and subscribe here for our YouTube channel to get your fix of the best in food/drink/fun.
Megan Schaltegger is a staff writer at Thrillist.