Krispy Kreme Is Changing Its Original Glazed Donut Recipe for the Holidays
Krispy Kreme's iconic glazed donuts have tasted more or less the same for the last 80 years -- with some recent and notable exceptions. The sugary dough ring purveyor has taken the unusual move to alter the recipe for occasions like St. Patrick's Day, the total solar eclipse, and pumpkin spice season. Now, it's introducing a new version just for the holidays this year.
On Tuesday, Krispy Kreme announced it's rolling out a festive take on the original glazed recipe with its first-ever Gingerbread Glazed Doughnut. The limited-edition donut will be available at most of the chain's locations across the United States and Canada just for one day only -- National Gingerbread House Day -- on Tuesday, December 12. Now, you can stack the donuts to build the gingerbread skyscraper of your dreams... if you can hold off on eating them all for that long, that is.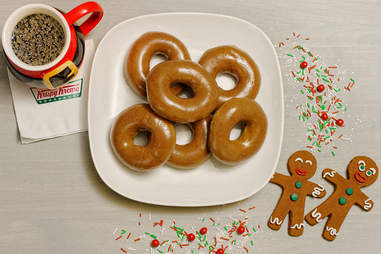 Courtesy of Krispy Kreme
Unlike the recent pumpkin spice and chocolate versions of the OG glazed donut, which merely altered the glaze, Krispy Kreme is changing both the glaze and the dough this time. The new donuts are made with spiced gingerbread dough with hints of ginger and cinnamon before they're run under a waterfall of warm gingerbread molasses glaze (see the top picture).
They're basically the laziest way to get your gingerbread fix this year. No baking or decorating required. So, uh, cheers to your holiday weight gain.
Sign up here for our daily Thrillist email and subscribe here for our YouTube channel to get your fix of the best in food/drink/fun.

Tony Merevick is Senior News Editor at Thrillist and loves a good gingerbread cookie. Send news tips to news@thrillist.com and follow him on Twitter @tonymerevick.