Krispy Kreme Employees Glazed a Donut 25 Times & It's a Sight to See
Who knew it was possible to turn a glazed donut into a monster...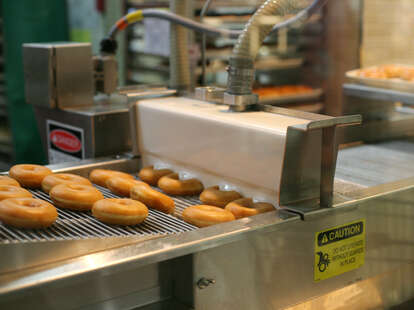 Krispy Kreme prides itself as the home of glaze waterfalls, the in-store conveyor belts on which the chain's iconic donuts receive their perfect coating of sugary sweetness. In fact, the company's largest glaze waterfall is a centerpiece of its soon-to-open NYC flagship location. But while these waterfalls are primarily used for good in making delicious donuts, it turns out they can also be used for evil.
Don't believe us? Well, look no further than the monstrosity Krispy Kreme employees created by running a donut under their store's glaze waterfall a staggering 25 times. Footage of the maniacal glazing was posted to TikTok.
Initially, we were curious. After watching, we were equal parts horrified and hungry. The employee who made the video explained that he and his coworkers were having a slow day, so they decided to experiment. The group wanted to know how many times they could glaze a donut, which feels like a limit that doesn't exist, but who knows.
"Our shift manager was skeptical but we told her it needed to be done," TikTok user @jackpaul_jones said.
Each segment of the video shows the donut entering the glaze waterfall, which is the stuff dreams (or in this case nightmares) are made of. After several glazes, the donut is barely recognizable. The glaze, which tends to appear somewhat translucent on a typical Krispy Kreme glazed donut, gets whiter and whiter with each dip. In the end, the donut grows so heavy it ripped a bag. The employees transfer it to a box and that's where the story ends. Or so we thought.
In a follow-up post, the employees recreate the "Mega Glaze" and multiple people bravely taste it, resulting in reactions like "it's not good" and "it's so thick." As for @jackpaul_jones, he says his tastebuds "shut down" upon taking a bite.
Obviously, we wouldn't say no to tasting this cursed donut ourselves, but we'll definitely be sticking to the normal, single-glazed donuts for now.
Sign up here for our daily Thrillist email and subscribe here for our YouTube channel to get your fix of the best in food/drink/fun.
Caitlyn Hitt is Daria IRL. Don't take our word for it -- find her on Twitter @nyltiaccc.