Krispy Kreme Is Unleashing 3 New Monster Donuts for Halloween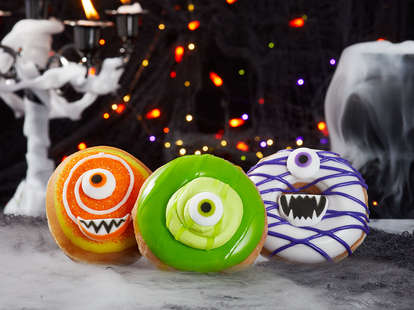 Believe it or not, it won't be much longer before you see people wandering around in Taco Bell hot sauce packet costumes or dressed up as mummies and monsters. Halloween is almost here and Krispy Kreme is rolling out its latest themed donuts for the occasion. This year, the donut chain is going all-in on donuts with eyeballs.
All three of the new Halloween monster donuts come complete with clever names. There's Slimon, the Slime Monster donut; Mumford, a Mummy donut, and Hypno-Henry, a hypnotic cake batter monster donut. Each has unique qualities.
Slimon is an Original Glazed donut stuffed with "slime lemon" filling and frosted with green icing. Mumford is also an Original Glazed donut, but is instead wrapped in white and purple icing and topped with a candy eye and mouth piece. Lastly, the swirly eye of Hypno-Henry is a composed of a plain shell donut crammed full of cake batter, glazed with yellow icing, and decorated with orange sanding sugar.
"Slimon and his cycloptic friends are looking to slime and sweeten Halloween parties throughout October," Dave Skena, chief marketing officer for Krispy Kreme, said in a press release. "We are asking everyone to keep an eye out for these mischievous monsters… and then eat them. Because they are scary good."
Slimon and his minions will be available at Krispy Kreme locations nationwide, starting October 7 and ending on Halloween night, October 31. As a bonus, people who show up to Krispy Kreme on Halloween dressed in costume will have the opportunity to score a free donut. Perhaps a gooey green outfit replicating Slimon is in order?
Sign up here for our daily Thrillist email and subscribe here for our YouTube channel to get your fix of the best in food/drink/fun.
Kat Thompson is a staff writer at Thrillist. Follow her on Twitter @katthompsonn.