Krispy Kreme is Giving Free Coffee to Teachers This Summer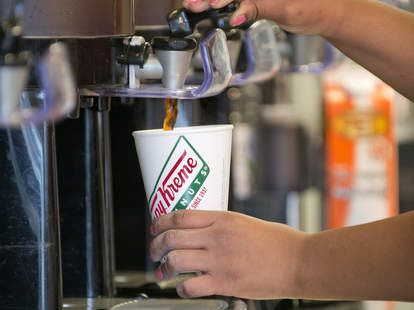 Whether you know it or not, your education was probably fueled by coffee. Teachers, after all, had to provide instruction while you sat fidgeting in your desk for nine months out of the year. So during the brief, but blissful summer this year, teachers across the country are getting the caffeinated treat they probably deserve year-round: free coffee from Krispy Kreme. 
The doughnut chain announced the promotion on social media last week, noting that coffee is free with purchase of any regular-priced menu item. All a teacher has to do is show their proper ID and mention the promotion, and they'll be rewarded with an infinitely better drink than the charred offerings from the teacher's lounge coffee pot. The deal lasts from now until July 31, and -- don't worry -- iced coffee is part of the promotion, so you won't have to scorch your tongue in the heat.
It's time for teachers to celebrate a great year! Let's celebrate all summer with free coffee w/ purchase (show school ID - select US shops) pic.twitter.com/cY42QVxu8i

— krispykreme (@krispykreme) June 7, 2017
The free coffee is redeemable at any time of day at all Krispy Kreme locations. This means teachers who live within a reasonable distance of a store might not have to pay for a coffee all summer, which is a necessary reward for sculpting young minds. The offer is valid for any size hot or iced coffee, a Krispy Kreme spokesperson confirmed, so don't try to discreetly order a hot chocolate or sneak away with an ice-blended drink.
It might seem like a consolation prize for educators whose accomplishments often go unheralded, but it's the least the doughnut empire could do. And if you're not a teacher, don't despair! It isn't like Krispy Kreme doesn't have a free doughnut deal basically every other week. 
Sign up here for our daily Thrillist email and subscribe here for our YouTube channel to get your fix of the best in food/drink/fun.
 
Sam Blum is a News Staff Writer for Thrillist. He's also a martial arts and music nerd who appreciates a fine sandwich and cute dogs. Find his clips in The Guardian, Rolling Stone, The A.V. Club and Esquire. He's on Twitter @Blumnessmonster.