Krispy Kreme Just Unleashed Two Ghirardelli Chocolate Donuts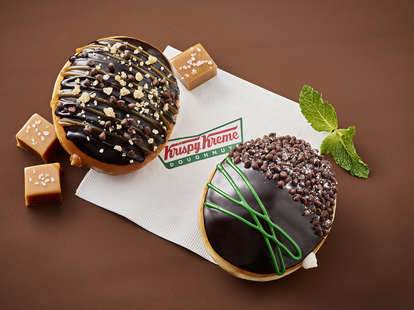 Courtesy of Krispy Kreme
Courtesy of Krispy Kreme
Delightfully simple and melt-in-your-mouth fluffy when warm, it's hard to beat Krispy Kreme's classic Original Glazed donuts. But every once in a while, the sugary dough ring purveyor introduces a new flavor that comes pretty damn close. The latest creations are no exception: Ghirardelli chocolate donuts.
That's right, folks: Krispy Kreme has teamed up with the San Francisco-based chocolate company to blur the line between chocolate bar and pastry. On Monday, the company announced it has added two donuts inspired by Ghirardelli's popular chocolate squares -- Sea Salt Caramel and Mint Chocolate -- to its menu in the United States and Canada for a limited time.
Krispy Kreme said the limited edition donuts are made with pieces of real Ghirardelli chocolate, along with a few other toppings and fillings. The Sea Salt Caramel donut is filled with salted caramel filling, dipped in chocolate icing, drizzled chocolate and caramel icings, and topped with a blend of amber sugar, salt sprinkle, and Ghirardelli mini chocolate chips.
As for the Mint Chocolate donut, Krispy Kreme said it's filled with White Mint Kreme filling inspired by Ghirardelli Chocolate Mint Squares, dipped in chocolate icing, decorated with green icing, and finished with Ghirardelli mini chocolate chips dusted in powdered sugar. The fillings and icings for both donuts are also made with Ghirardelli ingredients, according to a press release. Basically, you get a donut and a candy bar all in one.
Speaking of donut-candy bar hybrids, we're still waiting for Krispy Kreme to bring its Australia-exclusive Reese's Peanut Butter Cup donuts to the United States. The Ghirardelli donuts will probably do for now, though.
Sign up here for our daily Thrillist email, and get your fix of the best in food/drink/fun.
Tony Merevick is Cities News Editor at Thrillist and might have to make another stop at Ghirardelli HQ when he's in SF this month. Send news tips to news@thrillist.com and follow him on Twitter @tonymerevick.