Krispy Kreme Just Launched All-New Mini Donuts & You Can Try Them for Free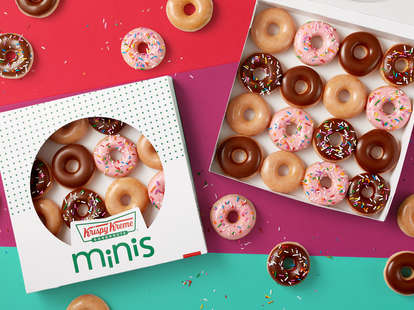 Krispy Kreme
Krispy Kreme
The anthem of the health-conscious sugar lover is sung in shared spaces, where hungry performers gather above a dozen Krispy Kreme donuts, lock eyes with a chosen partner, and sing in perfect harmony the single inquisitive lyric, "Split one with me?"
But now Krispy Kreme, in an effort to change its consumers' relationship with the full donut, is disrupting sweettooth culture. Starting on Monday, January 6, the national sugary dough ring maker will sell four of its classic donut flavors in all-new mini versions: Original Glazed, Chocolate Iced Glazed, Chocolate Iced with Sprinkles, and Strawberry Iced with Sprinkles. The reason? To help you cheat your diet.
"Too many people bail on their New Year's resolutions before they are even halfway through January," said Dave Skena, chief marketing officer of Krispy Kreme, in a statement. "That's no good. Sometimes a mini-indulgence, or cheat, is all you need to help you stick with it. So, we miniaturized our most popular doughnuts. A little Krispy Kreme goes a long way."
And we all know this to be true -- that, once we reject a doughnut, the room becomes a desert void where only icing and fried dough can quench our profound psychological thirst. There's no need for that level of depravity in 2020, especially now that we can get, for example, an Original Glazed Mini donut for less than 100 calories. Better yet, an Original Glazed Mini donut for less than 100 calories and for free.
To celebrate the launch of the mini donuts, participating Krispy Kreme locations across the United States will host "Mini Mondays" each Monday in January, from 4-7pm., where you can "cheat sweet" with a free mini doughnut of any flavor. If you'd like to show your progress on the mini donut diet use #KrispyKreme and tag @krispykreme on social media.
Sign up here for our daily Thrillist email and subscribe here for our YouTube channel to get your fix of the best in food/drink/fun.