Everyone Gets Free Krispy Kreme Donuts Today for National Donut Day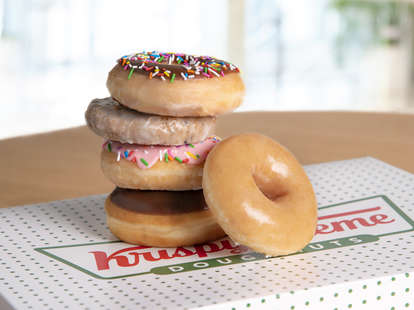 It doesn't take much to get into the donut spirit. Usually, it just takes someone saying, 'Hey, bud, you want a donut?' Then the magic spirit of donuts overtakes you, and you eat a donut and are satisfied and happy and maybe a little jittery from the sugar rush.
For those of you who are one with the donut spirit, National Donut Day -- on Friday, June 7 -- is a magical day. There are deals for free and cheap donuts all over the country, but here's one you'll want at the top of your Donut Day plan: Krispy Kreme is handing out free donuts. No catch. Just free donuts.
As it does almost every year, Krispy Kreme is giving away donuts in celebration of Donut Day, and best of all, you don't have to buy anything. Stop in on June 7, pick any donut off its menu, and you'll get it for free. You can get one at participating shops across the United States and Canada, according to a spokesperson.
The chain is introducing a twist this year, however. It wants to give away one million donuts. If Krispy Kreme gives away a million donuts, it will unlock another day of free donuts later in the month. It barely makes sense, but who are you to look a gift horse in the mouth?
Help Krispy Kreme reach its goal of giving away a million freebies, and you'll get even more freebies. Let's hope the donut spirit is strong this year.
Sign up here for our daily Thrillist email and subscribe here for our YouTube channel to get your fix of the best in food/drink/fun.