Krispy Kreme's Enormous, 24/7 Flagship Store Just Got an Opening Date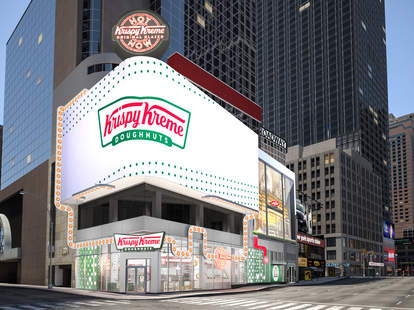 Krispy Kreme's flagship store will soon join the carnival of brands that is Times Square, where men in tuxedos supervise 20-foot long M&M dispensers, Hershey's employees serve massive s'mores from an authentic camper, and tourists from all over the world gather in a public square to photograph the landscape of billboards. Not to be outdone, the donut chain promised its 4,500sqft flagship would come with a glaze waterfall, a "doughnut theatre experience," and stadium style seats in its initial reveal last June. But it didn't provide an opening date -- until today.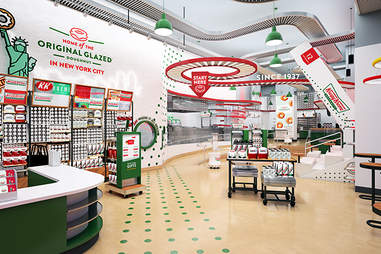 Courtesy of Krispy Kreme
The doughnut giant announced on Wednesday that it plans to open its Times Square store in May 2020, at 1601 Broadway. But there's some good news for NYC natives, who would rather choke on a donut than walk in or around the tourist destination: Krispy Kreme plans to open five other locations in Midtown, the Financial District, the Bronx, Harlem, and the Upper West Side. The Midtown location will actually open before the flagship, in February, at 994 Sixth Ave. The Penn Station store, which has been closed for remodeling, will open on January 30. 
Even though its donuts are getting smaller, it's been a big year for Krispy Kreme, and we're excited to brave the storm of 42nd Street selfie sticks to get our desserts. 
Sign up here for our daily Thrillist email and subscribe here for our YouTube channel to get your fix of the best in food/drink/fun.