Krispy Kreme Just Unleashed New Oreo Donuts for Valentine's Day
What's better than when the couple you've been rooting for all along finally gets together? That's exactly what's happening at Krispy Kreme this Valentine's Day. The beloved chain is pairing with Oreo to bring you a heart-shaped donut that's guaranteed to make you feel less alone, even if you are in fact objectively alone on that least-wanted of holidays.
The OREO Cookies & KREME donut will be available from January 29 through February 14. It's an unglazed, heart-shaped donut filled with "Oreo Cookie KREME," dipped in dark chocolate, topped with OREO cookie pieces, and drizzled with red icing.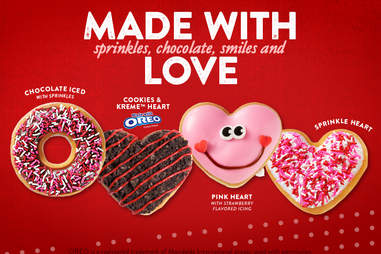 Courtesy of Krispy Kreme
There's actually a whole gang of festive donuts, so you'll be able to share an indulgent moment with a loved one or ward off loneliness with three other special Valentine's Day flavors.
There's the Sprinkle Heart, an unglazed heart donut that's dipped in white icing and topped in a Valentine's Day sprinkle blend the Happy Heart (a little ambitious, but that's fine) that's also an unglazed heart donut dipped in pink icing, filled with white KREME, and featuring sugar eyes and hearts, plus a slightly unsettling chocolate smile; and finally there's the Chocolate Iced with Sprinkles, which is fairly self-explanatory but also features that festive sprinkle blend.
So, if you don't have a sweetheart this V-Day, you at least have the option of consuming one.
Sign up here for our daily Thrillist email and subscribe here for our YouTube channel to get your fix of the best in food/drink/fun.