Krispy Kreme Is Bringing Back Pumpkin Spice Glazed Donuts for One Day Only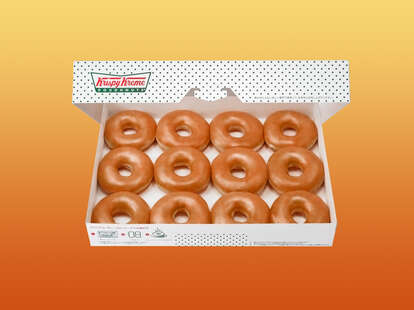 Cole Saladino/Thrillist/Krispy Kreme
At this point, everything in the world comes in a pumpkin spice flavor. There's still the classic Starbucks drink, Pumpkin Spice M&Ms, Pumpkin Spice Lattes for dogs, and, for some reason, Pumpkin Spice Deodorant, because we're running out of ideas.
There aren't many of the pumpkin-flavored foods that still get people excited, but Krispy Kreme's Pumpkin Spice Original Glazed Doughnut might be one of them. Just watch the oddly entrancing promo video that shows pumpkins going under the doughnut glazer and coming out as delicious, sugary doughnuts.
Krispy Kreme is bringing the pumpkin-themed doughnuts back this year. And, like last year, the doughnuts are going to be available for one day only.
When the doughnut debuted last year, it was the first time Krispy Kreme had changed the flavor of the Original Glazed Doughnut. The rare change is back, but if you like it, you're going to need to stock up. It will be available at participating Krispy Kreme locations on September 8 only.
The chain is making a habit of offering very limited run special editions. It offered a one-day special last month for the eclipse. Fortunately for lovers of rich doughnut flavors, those ridiculous peanut butter cup doughnuts are not limited edition. You can cram a handful of those into your face any ol' time.
Sign up here for our daily Thrillist email, and get your fix of the best in food/drink/fun.
Dustin Nelson is a News Writer with Thrillist. He holds a Guinness World Record but has never met the fingernail lady. Follow him @dlukenelson.