Krispy Kreme Doesn't Know Summer Isn't Over, Launches Delicious-Looking Fall Donuts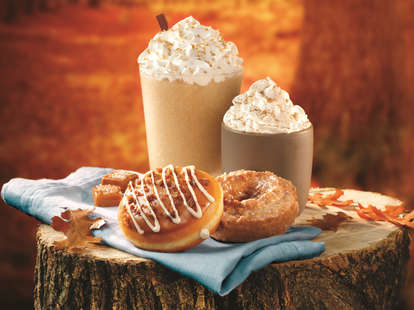 Business Wire
Business Wire
Terrible news, everyone! Summer is basically over and Krispy Kreme is pressing the issue. The only thing that can ease the pain is the weirdly premature arrival of fall snacks. Krispy Kreme is on board and while petitions are still pushing for the Stateside arrival of Reese's Peanut Butter donuts (#MakeDonutsGreatAgain), lovers of dessert for breakfast are in luck. Krispy Kreme is pushing some fall-themed donuts with the release of pumpkin spice cake donuts and salted caramel latte donuts.
Also launching is a new Krispy Kreme pumpkin spice latte, which, along with the donuts, is available immediately throughout the U.S. and Canada until Nov. 24. It seems a little cruel to peddle fall goods before Labor Day cookouts have even happened, but shoving a donut in your craw will ease the indignity.
The pumpkin spice donut is an old-fashioned with Krispy Kreme glaze and it's probably delicious when dunked in its namesake drink. However, while everyone loves and loves making fun of pumpkin spiced goods, the gem here is the salted caramel latte donut, which is described as "an espresso Kreme™ filled doughnut... topped with a salted caramel icing and salted sugar blend." If that's not enough delicious sugary treat, it's topped off with a drizzle of espresso icing to make sure you're crashing hard at your desk by noon.
Sign up here for our daily Thrillist email, and get your fix of the best in food/drink/fun.
Dustin Nelson is a News Writer with Thrillist. He holds a Guinness World Record, but has never met the fingernail lady. He's written for Sports Illustrated, Men's Journal, The Rumpus, and other digital wonderlands. Follow him @dlukenelson.