Krispy Kreme Is Unleashing Reese's Peanut Butter Cup Donuts on Friday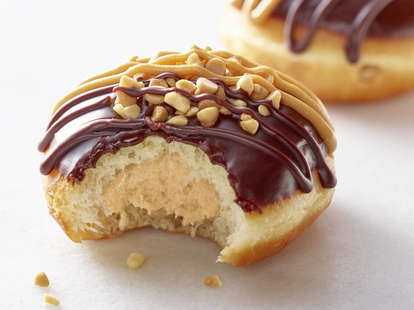 It's hard to top a classic Krispy Kreme glazed donut fresh off the icing waterfall conveyor belt, but that hasn't stopped the chain from trying with limited edition dough delicacies inspired by your favorite sweet treats. Now, hot on the heels of its popular Ghirardelli chocolate-inspired duo, the iconic donut maker is launching something arguably even better at locations in the US on Friday: a Reese's Peanut Butter donut.
Krispy Kreme describes the new donut as the marriage of "two iconic American flavors." Each one is filled with Reese's Peanut Butter Kreme filling, dipped in chocolate icing, and topped with chocolate and peanut butter drizzle, Reese's Mini Peanut Butter chips, and peanuts. They'll be available for a limited time at most Krispy Kreme locations nationwide starting on Friday, August 4, for $1.69 apiece.
This isn't the first time the brand has teamed up with Reese's on a chocolatey, peanut buttery pastry. People went absolutely bonkers when Krispy Kreme unleashed a similar product in Australia and the UK last year. In fact, a former Thrillist staffer was so incensed that it wasn't available in America that he took it upon himself to launch a Change.org petition in hopes of convincing the chain to bring the Reese's donuts stateside. Sure, it's been almost a year and the petition isn't cited as an influence whatsoever, but we can't help but consider it a success.
You're welcome.
Sign up here for our daily Thrillist email and subscribe here for our YouTube channel to get your fix of the best in food/drink/fun.