Krispy Kreme's All-New Pie Donuts Come in 3 Classic Flavors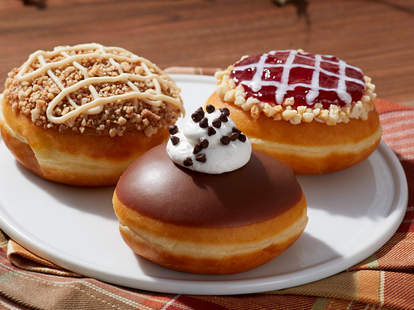 I've always found Thanksgiving to be a bit overrated as a food holiday. Turkey is dry, mashed potatoes can get gummy, and don't get me started on canned cranberry sauce. But Thanksgiving dessert is a different story; Thanksgiving dessert means pie. And pie means joy.
That's why it's particularly exciting that Krispy Kreme is releasing pie-inspired donuts just in time for the holidays, the chain announced on Monday. 
The all-new Easy as Pie donut collection features three classic flavors: Dutch Apple Pie, Chocolate Kreme Pie, and Cherry Pie, according to a spokesperson. The Dutch Apple Pie is stuffed with apple pie filling, glazed with caramel icing, and topped with streusel crumbles and an icing lattice. The Chocolate Kreme Pie is oozing with chocolate Kreme, smothered in chocolate icing, and finished with a Kreme dollop and mini chocolate chips. Finally, the Cherry Pie replicates a cherry pie with a cherry filling topping, pie crust crumbles, and icing lattice.
"There's nothing easy about making pie, but doughnutized pies are a different story. We've taken some of your favorites and transformed them into delicious doughnuts. Buy. Share. Eat. Easy as pie," Dave Skena, Krispy Kreme's chief marketing officer, said in a press release.
In addition to launching new donuts, Krispy Kreme is also offering a deal on November 23 that'll get you two dozen donuts for a mere $13. Donut enthusiasts can opt for two dozen Original Glazed or get a dozen glazed and a dozen of mixed assortments, which could very well include the newly introduced pie flavors. You can find the coupon code for the offer here.
If you ever had to pick between donuts or pie, just know that Krispy Kreme now has you covered with both. And we'd pie-ly suggest you try out their new flavors. OK, sorry about that.
Sign up here for our daily Thrillist email and subscribe here for our YouTube channel to get your fix of the best in food/drink/fun.
Kat Thompson is a staff writer at Thrillist. Follow her on Twitter @katthompsonn.