This Coffee Chain Is Making New, Self-Heating Cans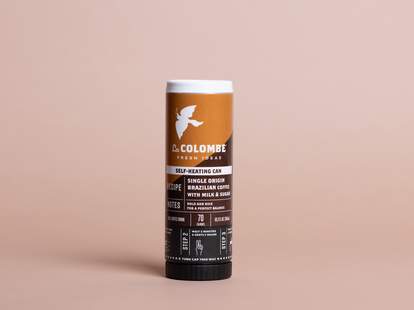 La Colombe has already changed the way we drink coffee by canning its cold brews, draft lattes, even spiked coffee for easy on-the-go caffeinating. But now, the Philadelphia-based roaster is breathing new life into its packaging with the test launch of a self-heating coffee can.  
As part of the company's Fresh Ideas program, a line of limited-batch beverages straight from La Colombe's research and development innovation hub, the self-heating cans will be trialed exclusively in Philadelphia's Fishtown. According to a rep for the brand, who confirmed the news to Thrillist on Thursday, the coffee will be available two ways: La Colombe's Brazilian Single Origin blend and Brazilian with Milk + Sugar.
The product, which has already been spotted out in Philly, features HeatGen's patented technology that warms your brew up to ~130 degrees in just two minutes. Though the product is currently only available at La Colombe's flagship, The Philadelphia Inquirer reports it will make its way into local Wegmans, as well. 
So how's it work? Magic?? It's pretty simple actually. It's activated by twisting the bottom, waiting two minutes, and gently shaking.
"I want to see how people react," La Colombe CEO Todd Carmichael told The Takeout. "I'm experimenting with technology and I'm experimenting with people. Is it a fad or a novelty or is it a trend? I want to see how it fits in with people's lives."
Sign up here for our daily Thrillist email and subscribe here for our YouTube channel to get your fix of the best in food/drink/fun.
Megan Schaltegger is a staff writer at Thrillist.