All the Free & Cheap Food You Can Get for Labor Day Weekend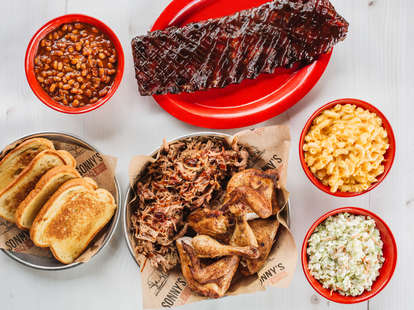 In an ideal world, we're all spending every meal around a grill for Labor Day weekend, savoring the last moments before summer's unofficial end.
But at some point, the hard seltzer gets to you and you might just have to skip a meal or two from the ambitious grilling schedule you've put together. Or maybe you just need to carve out a moment for your fantasy football draft or a late night watching the northern lights. When that moment comes, you'll be glad to know that restaurants across the country are offering free and cheap food to help you get through the long weekend. Below, you'll find offers national chains like Wendy's, Cicis, DoorDash, and more.
Free Food for Labor Day
Cicis
The deal: Prep yourself for the return to school after Labor Day with a free kids buffet from 4pm-close with the purchase of an adult buffet and a large drink.
When: September 3
Carrabba's Italian Grill
The deal: Order one of the chain's signature dishes -- Chicken Bryan, Chicken Marsala, Pollo Rosa Maria, or the Chicken Trio -- and you'll get a free order of Lasagne to take home.
When: Through September 8
Marco's Pizza
The deal: This one lands the day after Labor Day, but it's a good one. Pick up a large or extra-large pizza and get a free medium cheese pizza with the code "FREECHZ." It's available at participating locations only. Call ahead.
When: September 3-5
Wendy's
The deal: Spend $10 through DoorDash and you'll get a free four-piece order of Spicy Nuggs as well as a small Sprite.
When: Through September 7
Krispy Kreme
The deal: In celebration of the one-week-only release of pumpkin donuts, Krispy Kreme is offering a free donut to anyone who has purchased something pumpkin spice that wasn't satisfactory.
When: September 2-8
Ike's Love & Sandwiches
The deal: Get a free bag of chips and a drink when you buy any sandwich. You'll just have to flash the coupon which will be shared via their social media channels.
When: August 30 - September 2
Food Deals for Labor Day
Sonny's BBQ
The deal: Pull together a full Labor Day weekend meal from Sonny's and tell your friends you made it yourself. Get a whole chicken, a pound of pulled or sliced pork, three pint-sized sides, and a choice of bread for $29.99. The deal is only good for takeout.
When: August 31 - September 2
Firehouse Subs
The deal: Get $2 off a medium or large sub with chips and a drink with this coupon. (You can also get $10 off any deluxe catering platter through September 2 with this coupon.)
When: August 28 - September 2
Dunkin'
The deal: Dunkin' (don't you dare say Donuts) is declaring Tuesday "Back to the Grind Day." In honor of the fictitious holiday, you can add a shot of espresso to any drink for just 50 cents.
When: September 3
Chili's
The deal: It's Baby Back Rib Day for everyone who wants their baby back. Get a half rack of ribs as part of the chain's three for $10 offer. That gets you the ribs, an appetizer, and a fountain drink.
When: September 3
STK Steakhouse
The deal: Make reservations and give the code "LD19" at the time of booking to get a free lil' BRG appetizer for every person at the table. There will also be an all-day happy hour on September 2 with half-price specialty cocktails.
When: August 28 - September 2
Überrito
The deal: All burritos, bowls, and salads are just five bucks, as long as you're not ordering delivery.
When: September 2
Cicis
The deal: Get yourself two large one-topping pizzas for $10. The deal is available at locations across the country, but only for carryout and with this coupon.
When: August 30 - September 2
Maggiano's Little Italy
The deal: Every weekend in September, Maggiano's is serving up $2 mimosas for your brunching pleasure. (Or whatever time of day best suits your mimosa needs.)
When: Every weekend in September
Corner Bakery Cafe
The deal: Get two or more entrées for just $9.99 each at participating locations. You'll need to snag the coupon here.
When: September 2
bd's Mongolian Grill
The deal: For the price of just one stir-fry bowl, you're getting unlimited stir-fry bowls. Deal.
When: Through September 2
Mrs. Fields
The deal: Yes, the cookie lady is offering a Labor Day discount. Everything -- read: cookies, lots and lots of cookies -- on the website is 20% off with the code "FIREWORKS."
When: Through September 2
Bulletproof
The deal: The coffee purveyor is offering up to 20% off items for Labor Day. In the sale, you'll find Bulletproof ground coffee and cold brew coffee, Brain Octane Oil, protein bars, ghee, and more.
When: August 30 at noon through 9pm on September 2
Hurricane Grill & Wings
The deal: Take 20% off any party platter with a $50 order.
When: September 2
Romano's Macaroni Grill
The deal: Romano's is offering free delivery on all orders placed at Macaronigrill.com.
When: August 28 - September 4
Fogo de Chão
The deal: Order any regularly-priced full churrasco and you'll get a free Children's Full Churrasco meal for a kid 12 or under.
When: August 30 - September 2
Applebee's
The deal: The chain's new Neighborhood Drink of the Month is a $1 Adios, available every day in September.
When: September 1-30
Other Deals on Labor Day
UNO Pizzeria & Grill
The deal: Get $2 Stemmari Rosé Sangria with UNO's new ongoing drink promotion.
When: August 23 - September 30
7-Eleven
The deal: The convenience chain has finally made a Nerds Slurpee, and you can get it a medium one for just a buck through the 7Rewards app.
When: For a limited time
White Castle
The deal: For a limited time you can get two breakfast sliders for $3. The offer is part of the slider hub's Winning Waffle promotion. Buy any waffle item and you can win a trip to Belgium.
When: Through November 4
More Labor Day Food Deals?
Did miss something? Drop us a note at news@thrillist.com and we'll add it here.
Sign up here for our daily Thrillist email and subscribe here for our YouTube channel to get your fix of the best in food/drink/fun.