The World's Largest Starbucks Opens Today. Here's a Look Inside.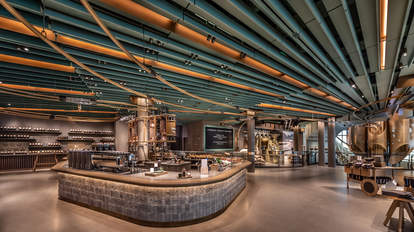 My uncle took me to get my very first coffee at a Starbucks on the corner of his street in Harlem, New York. I think I called it "dark and weird," having lacked at that point the capacity to appreciate what was "trendy and revolutionary." There were around 7,000 Starbucks open then (2003), as well as an intense American loyalty fueling the company's expansion overseas, where until this week the largest Starbucks in the world resided. That 32,000sqft Starbucks was in Toyko but, as of November 15, a 35,000sqft Starbs is sitting pretty in Chicago. 
The shiny coffee citadel, which was originally announced by the company in 2017, is now open where Crate & Barrel's store previously resided, at the corner of Chicago's Michigan Avenue and Erie Street. It's five stories and, like the other five roasteries around the world, you don't just visit for the caffeine high and cake pops. 
Scooping Bar, Floor 1

| Connor Surdi/Edelman
A spiral escalator winds around the centerpiece of the Roastery -- a 56ft steel cask filled with beans -- and provides both a 360-degree tour of the building and a view of the Chicago's Magnificent Mile. Spread across the building are countless amenities and architectural designs that nod to the city's history and spirit.
Roaster, Floor 1

| Connor Surdi/Edelman
Most notable is the Arriviamo Bar, with drinks that are exclusive to the city (think a twist on the classic Chicago 'Boilermaker,' with cold brew, Malort, whiskey, bitters, club soda, and grapefruit juice). Princi, a high-end Italian chain, will also have a home in the Roastery, where you can enjoy high-end pizza and focaccia. No word on whether they'll have deep dish, though.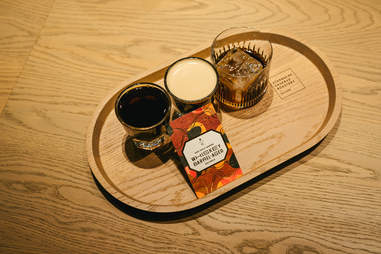 Arriviamo Bar, Floor 4

| Connor Surdi/Edelman
The company says, much like its flagship Seattle location, "the new Chicago Roastery will be a fully sensorial coffee environment dedicated to roasting, brewing and packaging its rare, small-batch Starbucks Reserve coffees from around the world." Starbucks described the space "interactive" and "designed to bring coffee craft to life by offering multiple brewing methods, specialty Reserve beverages and mixology." The Roastery offers seven different brewing methods, French press and siphon included.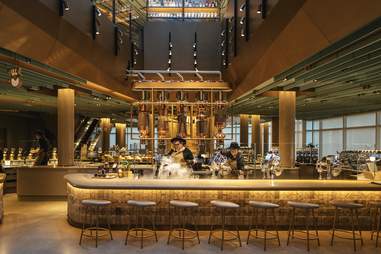 Experience Bar, Floor 3

| Connor Surdi/Edelman
The grand opening will begin at 10am on November 15, according to the company. For future reference, these will be the operating hours:
 
• Monday-Thursday: 7am-11pm
• Friday: 7am-midnight
• Saturday: 8am-midnight
• Sunday: 8am-10pm
In case you need motivation to brave the crowds and their travel cup weapontry, here's a fun fact: Chicago Roastery is the only Starbucks in the US that offers on-demand liquid nitrogen gelato to pair perfectly with your coffee. 
Sign up here for our daily Thrillist email and subscribe here for our YouTube channel to get your fix of the best in food/drink/fun.