Las Vegas Might Change Its Iconic 'What Happens Here, Stays Here' Slogan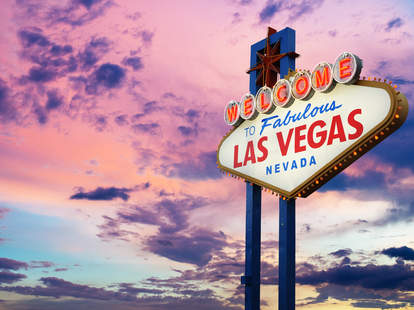 Las Vegas is the destination for bad decisions. But despite its "What Happens Here, Stays Here" slogan, I can assure you this: what happens in Sin City...will follow you home. Your 3am Elvis Chapel wedding is legal on Monday, those matching "best friend" ass tats will outlast the week, and you're still due in court for that public intoxication arrest.
But now, according to USA Today, Vegas is reportedly considering a change to its iconic tagline. On November 19, a tamer version, "What Happens Here Only Happens Here," was announced during an Aerosmith concert at the Park Theater. And according to the Las Vegas Review-Journal, the band will appear in the official ad campaign in the coming months.
A slew of stars have taken to social media to promote the slogan. "You know we only do 'Amazing' things. Which is why we've teamed up with #Vegas to create the next big thing for the city..." Aerosmith wrote on Instagram following the concert. "Find out more January 26th 2020!" Lady Gaga's band leader Brian Newman and Shania Twain shared similar teasers last month, as well. The original, cheekier expression was introduced by the Las Vegas Convention in partnership with the Visitor's Authority and R&R back in 2003.
Mark your calendars, my poorly behaved friends. Come January 26, you can no longer blame your antics on the city. But hey Vegas, if you're still workshopping the slogan, might I suggest a more clear-cut approach like: "don't be stupid because there will be repercussions in Vegas and at home." Has a nice ring to it, right?
h/t Travel & Leisure
Sign up here for our daily Thrillist email and subscribe here for our YouTube channel to get your fix of the best in food/drink/fun.
Megan Schaltegger is a staff writer at Thrillist. Follow her @MegSchaltegger.