Amazon's Best Last-Minute Gifts for Every Budget
If you've been too busy stress-drinking eggnog and frantically searching for an SNES Classic to get around to shopping for everyone on your list this year, don't panic — you're not totally screwed yet. Amazon's mercifully fast shipping can save you from yet another holiday anxiety-induced headache if you're in need of someone last-minute gifts. Whether you're looking to spend $10 or $100, we've rounded up some of the best gadgets, gear, and all-around quality loot you can still get delivered in time for Christmas.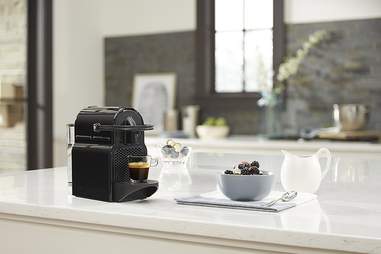 Nespresso Inissia Espresso Machine

| Delonghi
Best Gifts Under $100
Amazon Echo 2nd Generation -- $80
The latest voice-activated smarthome speaker from Amazon is an exceptionally handy hub that you can ask to play the news, answer questions, cue up a playlist or song, check the weather, and a whole suite of other convenient commands. 
Kindle -- $60
An oldie but a goodie, Amazon's go-to e-reader is a standby for vociferous readers on the go.
Sony Extra Bass Wireless Headphones -- $98
This, ultra-comfy premium set of over-ear headphones (complete with a built-in microphone) are a solid option for any audiophile on your list. They're not marketed as sound-proof, but it's still exceptional at blocking out noise.
Fitbit Alta -- $99
Perfect for anyone who wants to dabble in activity tracking but not ready for a full-on smartwatch, Fitbit's low-profile Alta wristband will monitor all-day activity, sleep, and can even notify of incoming texts, calls, and calendar reminders when synced with your phone. 
Anova Bluetooth-Equipped Sous Vide Cooker -- $99
Aspiring gourmands and gadget-loving foodies alike are going to love this sous vide cooker, which has earned rave reviews for making it incredibly easy to perfect the notoriously tricky professional cooking technique -- which requires incredible temperature control -- without hovering over the stove or even really paying attention.
Nespresso Inissia Espresso Maker -- $95
The caffeine-obsessed coffee snob on your list will go bonkers over this machine, which uses Nespresso pods and turns out nine different types of coffee/espresso at the press of a button.
Masterbuilt Portable Gas Smoker -- $70
No backyard BBQ master's arsenal of tools is complete without a proper smoker like this one, features an easy to read temperature gauge, removable wood chip tray, and water pan.
UE Wonderboom Waterproof Wireless Bluetooth Speaker -- $70
This adorable orb-shaped wireless speaker may seem unassuming, but it is capable of some truly high-quality and powerful sound. Plus, it'll play for up to 10 hours on a single charge.
12-Month Subscription to Amazon Prime -- $99
For anyone who hasn't yet realized the benefits of Amazon Prime membership beyond free 2-day shipping, this gift subscription will grant them a year's worth of access to the treasure chest of perks including everything from Amazon Prime Video and free books to photo storage and music streaming.
T-fal Nonstick 12-piece Cookware Set -- $63
Whether someone just moved and is looking to fully flesh out their kitchen with fresh stuff or simply needs an all-around cookware upgrade, this top-notch set from T-fal is a solid choice to get them started.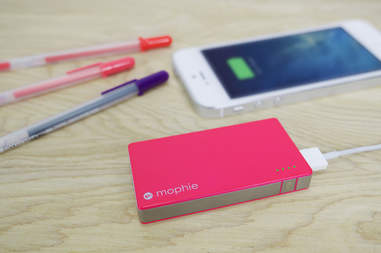 mophie Powerstation External Battery

| Mophie
Best Gifts Under $50
Amazon Fire TV Stick with Alexa Voice Remote -- $35
A great intro to big-screen streaming, Amazon's TV stick not only grants you access to a whole bunch of apps like Netflix, Hulu, HBO Now, YouTube, and many, many more to watch tons of content, but also comes packed with Alexa's smarts when you speak into the remote.
Sodastream Starter Kit -- $50
For the Lacroix fiend in your life, Sodastream's basic DIY sparkling water machine comes packed with everything they need to start making it at home.
mophie Powerstation External Battery -- $50
A must-have for anyone who freaks out around about smartphone battery life (so... everyone?), mophie's low-profile external battery is a godsend for frequent travelers, with the ability to recharge multiple devices at once, and provide 24 hours of charge.
Stanley 65-Piece Homeowner's Tookit -- $42
Practical, yes, but also perfect for anyone who's just moved out their own place for the first time.
Sport Squad Electric Air Hockey Table -- $46
Consider this the game room starter kit. It doesn't require a ton of space, either -- it's less than two feet wide and only about three feet long, so you can keep it stashed away and just set it on a tabletop whenever you get the urge to play. 
11-Piece Magic Blender -- $32
This little blender/food processor hybrid is a beastly kitchen gadget that can chop, mix, blend, grind, and whip just about whatever you toss in it, and is ideally suited to turn out top-notch smoothies. 
Dual Breakfast Sandwich Maker -- $36
Great kitchen appliance or greatest kitchen appliance ever? This will surely delight any breakfast sammie lover in your life.
Sabitier 12-Piece Self-Sharpening Knife Block Set -- $81
Give the gift of perpetually sharp blades with this handsome countertop piece, which features a built-in sharpener in each slot.
Darice 80-Piece Art Set -- $29
Encourage the aspiring and wannabe visual artists with this all-encompassing wooden carrying case full of supplies like colored pencils, oil pastels, watercolors, and paintbrushes.
Philips Hue 2-Bulb Starter Kit -- $50
Even for technophobes, this set of wireless lightbulbs are easy to set up and control. They allow you to set timers and light schedules so it seems like someone's home even when they're not, and dim entire rooms via a dedicated app.
Tile Mate Key Finder

| Tile
Best Gifts Under $25
Tile Mate Key Finder -- $20
Know someone who's constantly misplacing their keys or bag? This low-profile Bluetooth-enabled fob can be stashed in a backpack or on a keychain and will ring loudly on command from your phone, making it easy to locate. Alternately, if you can't find your phone, you can double tap a button on the Tile to make your phone ring, even if it's on silent.
Cards Against Humanity Set or Expansion Pack -- $25 and under
Everyone's favorite "party game for terrible people" is a must-have in any frequent host's home. Or, if you know someone who already owns and loves the game, get them an expansion pack instead.
18-Piece Stainless Steel BBQ Accessories Set -- $18
A BBQ master requires a solid set of tools, and this slick set of wooden-handled grill-cessories are just that, equipped with a handy carry case.
Sphere and Cube Cocktail Ice Molds -- $14
Any amateur mixologist knows the secret to making a perfect drink lies in the quality of the ice. This two-piece silicone ice mold set makes it easy to freeze classy 1.75-inch spheres and two-inch cubes.
Umbra Hangit Photo Display -- $20
This DIY wall decor set makes it easy to create a cool and custom minimalist tableau of photos, cards, and mementos. 
Cafe Du Chateau French Press Coffee Maker -- $24
A spiffed-up version of the more recognizable Bodum brand French Press, this set features a four-level filtration system and slick stainless steel detailing. 
George Foreman Quesadilla Maker -- $18
Although quesadillas are arguably one of the simpler snacks to make, this nonstick machine is explicitly designed to turn out expertly crafted and crunchy ones complete with indented outer edges and creases where it should be cut.
Personalized Pocket Knife -- $23
Sporting a wooden facade, this weighty 13-function multi-tool can be fully customized to read just about whatever you want in the font of your choice.
3-in-1 Clip-On Lens for iPhone -- $13
For any budding mobile photographer, this handy little phone-cessory setup includes a macro, fisheye and super wide angle lens.
Sign up here for our daily Thrillist email and subscribe here for our YouTube channel to get your fix of the best in food/drink/fun.