Olympic Gold Medalist's Brother Is Taking Her 'Straight to Wawa' to Celebrate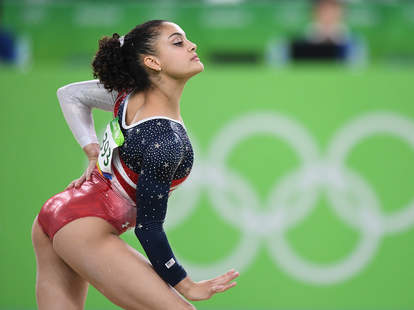 When you earn a gold medal and international sports glory at the Olympics, there's likely no wrong way to celebrate the victory with your teammates, friends, and family. But if you're an Olympic gold medalist from New Jersey, it looks like there's one right way to celebrate: go to Wawa. 
At least, that's what the brother of Team USA gymnast and first-time Olympic gold medalist Laurie Hernandez plans to do -- as soon as she arrives home to New Jersey from Rio, according to a report by Philadelphia magazine.
Shortly after the US women's gymnastics team downright dominated the women's team all around event on Tuesday, Hernandez's brother, Marcus, shared a selfie of his sister posing with her new gold medal on Instagram and promised to take her "straight to Wawa" to celebrate her big win:
The trip to Wawa should come as no surprise to folks from the East Coast, where the deli/coffee joint/convenience store/gas station chain has a cult-like following similar to that of In-N-Out Burger on the West Coast. Wawa's big menu of specialty items are particularly great, as we explained in a recent ranking. And evidenced by Marcus' post, it seems like a great place for some brother-sister bonding.
Basically, it's the place for champions.
Sign up here for our daily Thrillist email, and get your fix of the best in food/drink/fun.
Tony Merevick is Cities News Editor at Thrillist and loves the cult-live followings around regional convenience stores chains. Send news tips to news@thrillist.com and follow him on Twitter @tonymerevick.