Lays Has New Grilled Cheese and Tomato Soup-Flavored Chips Perfect for Fall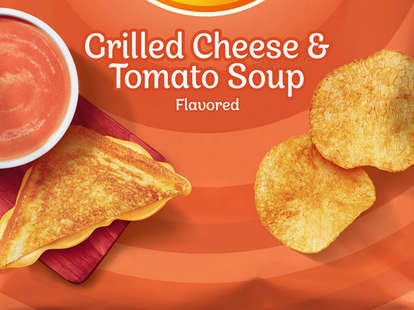 Forget pumpkin spice and spaghetti squash and maple flavoring. Fall is for soups. As if to kick off the season of soup slurping, Lays may have just unveiled the coziest potato chip flavor yet: Grilled Cheese & Tomato Soup.
The potato chip purveyors have been known to launch inventive new flavors, like cappuccino and flamin' hot dill pickle, so it comes as no surprise that Lays is now diving into one of America's favorite comfort food pairings.
The new chips deliver "a dynamic combination of tomato taste and buttery cheese with underlying creamy and toasted notes," the company said in a press release. Yeah, that's definitely something we can get behind. I don't think we need to say much more.
The grilled cheese and tomato soup chips are set to launch October 21, just as the weather officially cools down and we can get excited about layering cardigans and our kitchens filling with the scents of simmering soups. But, like the season and falling leaves, the chips will only be around for a little whole, so stock up quick for your winter hibernation.
Sign up here for our daily Thrillist email and subscribe here for our YouTube channel to get your fix of the best in food/drink/fun.
Kat Thompson is a staff writer at Thrillist. Follow her on Twitter @katthompsonn.