Everywhere You Can Get Free & Cheap Food for Leap Day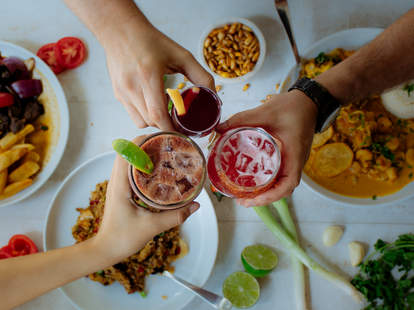 It only happens once in a blue moon. Or, actually, it happens even less frequently than a blue moon. It's Leap Day, the day that only pops up once every four years to make sure our calendars are properly aligned with the Earth's orbit around the sun.
Because February 29 only comes around once every four years, people born on that day rarely get to celebrate a proper birthday. This year, though, is a time for celebrating. In addition to all the other free food available on your birthday, leaplings are getting amazing offers and freebies from restaurants around the country. (And there's plenty for people not born on February 29, too.) Enjoy your bonus day for the year with deals from Olive Garden, Chili's, Farmer Boys, and many others.
Here are the best leap day food deals you're going to find.
Free Food on Leap Day
Olive Garden
The deal: Leaplings who have missed out on three years of birthdays can get four free Dolcinis on their birthday. If your birthday is on any of the other 365 possible days, you can get a $5 Take Home meal for just $2.29 with the purchase of a dine-in entrée.
When: February 29
Noodles & Company
The deal: Rewards members are going to get 1,150 bonus points with the purchase of any entrée with shrimp. That's enough to nab yourself a free small entrée on your next visit. 
When: February 26-29
Denny's
The deal: If you've got a leap day birthday, you can get a free Grand Slam at any location in the country. 
When: February 29
Farmer Boys
The deal: Prove it's your birthday and you're getting a free Big Cheese cheeseburger to celebrate your occasional birthday.
When: February 29
Villa Italian Kitchen
The deal: If it's your birthday, you can grab a free slice of pizza in honor of your leap-year birth. 
When: February 29
Capriotti's Sandwich Shop
The deal: The restaurant is debuting what it says is the world's first Impossible Cheese Steak Sandwich. For one day only, it's offering a BOGO deal on a half Impossible Cheese Steak Sandwich when you order through the CAPAddicts app.
When: February 29
KwikChek
The deal: Stop in to grab a totally free taco on Leap Day. Leap Day William approves.
When: February 29
El Vaquero Mexican Restaurant
The deal: The Ohio and Michigan-centric chain is offering BOGO guacamole or cheese dip orders. 
When: February 29
Insomnia Cookies
The deal: Make any purchase and you'll get set up with a free traditional cookie. 
When: February 29
Milk Bar
The deal: Leap Day babies are getting a free Mini B'Day cake at participating locations. If you aren't a Leap Day baby, you can get Milk Bar's new Chocolate Birthday Soft Serve for just $2.29. 
When: February 29
Norms
The deal: All 20 locations are offering anyone with a Leap Day birthday a free 4 Deuces breakfast. Also, kids can grab any kids meal for $2.99 all day. 
When: February 29
Courtesy of Ike's Love and Sandwiches
Food Deals Available on Leap Day
7-Eleven
The deal: First-time users of the 7NOW delivery app can get a $29 discount on any order $50. Just use the code "29OFF50." You can also get a whole pizza for $2.29 in-store or through the app.
When: February 29
Schlotzsky's
The deal: Use the app to get an $8 meal deal. That comes with a medium sandwich, small drink, and chips. 
When: February 29
Ike's Love & Sandwiches
The deal: Get a fountain drink for just $0.29 on Leap Day. 
When: February 29
Hungry Howie's
The deal: Buy a large pizza at menu price and you can get a large one-topping for $0.29 when you use the code "LEAP29" at participating locations. 
When: February 29
Chili's
The deal: The Margarita of the Month is the Hearts of Fire 'Rita with tequila, Fireball Whiskey, and Maker's Mark Bourbon. It'll run you $5. 
When: Through February 29
Marie Callender's
The deal: For Great American Pie Month — a real thing, but why pass an excuse to celebrate pie? — every whole pie can be had for just $7.99. 
When: Through February 29
Slice
The deal: New customers can get $5 off their first order with the code "PIELOVER." The slice app connects you with local pizza shops, so this offer is actually good at loads of pizza shops.
When: Through February 29
Jet's Pizza
The deal: Take 29% off menu-priced pizzas with the code "LEAP" on pickup and delivery orders. 
When: February 29
Grimaldi's
The deal: Stoking Social Hour goes down from 3:30-6pm today and you can get $15 off non-house bottles of wine, $2 off draft beers, and $3 off glasses of wine, signature cocktails, antipasto, and bruschetta. It's a good time to drop in.
When: Daily
MAPCO
The deal: All 16-ounce cans of Monster, Reign, NOS, Full Throttle, and Rockstar energy drinks will be just $2.29, as will 8.4-ounce cans of Red Bull, as long as you're a My Reward$ member. 
When: February 29
Courtesy of Lot 15
Local Food Deals for Leap Day
Conrad New York Downtown - New York City, New York
The deal: If you've got a Leap Day birthday, you can get a free bottle of wine with the purchase of two entrées. 
When: February 29
Fulton Brewing - Minneapolis, Minnesota
The deal: Sun Country Airlines is hosting a party at one of the state's best breweries. The first five leaplings in the door are going to get a $229 flight voucher. Everyone else will get a chance to win some free travel. Also, the first 229 people in the door will get a free 2.29-ounce pour of Fulton's Lonley Blonde in a commemorative glass.
When: 
Lot 15 - New York City, New York
The deal: Prove you're a leap-year-baby to get a free Planters Punch. They call it a "large-format" cocktail for up to six people.
When: February 29
Suviche - Fort Lauderdale, Florida
The deal: Leap Day babies are getting a free meal for their birthday. Show your ID and you'll get a free meal with a maximum $50 spend. 
When: February 29
Other Leap Day Deals
Sky Zone
The deal: Become a Sky Zone member on Leap Day, and you'll get your first month of bouncing for just a buck. 
When: February 29
Sign up here for our daily Thrillist email and subscribe here for our YouTube channel to get your fix of the best in food/drink/fun.