Here Are the Best Travel Deals You Can Get for Leap Day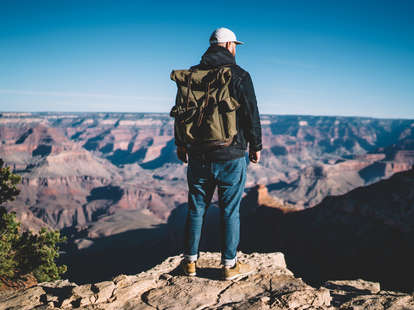 Maybe it's a problem of memory with Leap Day only coming once every four years, but it's not something I associate with travel deals. Yet, here we are. Planes, trains, and automobiles (and hotels) are offering deals whether or not it's you're once-every-four-years birthday.
Lots of food deals for Leap Day are focusing on getting something special for those folks who have a February 29 birthday, ensuring that their infrequent birthdays are something to celebrate. With our bonus day in 2020, you'll be able to find 50% off train tickets through Amtrak, discounts on flights, free tickets for leaplings through Megabus, and a whole lot of cheap hotel rooms.
Check out the best Leap Day flight deals and travel deals.
Leap Day Flight Deals
- Frontier Airlines: Until midnight on February 28, you can get 75% off flights taken between March 3 and April 7. Use the code "SAVE75." - [Get it]
- JetBlue: Through March 11, JetBlue is waving its change and cancellation fees.
- Sun Country Airlines: The airline is hosting a party at Fulton Brewing in Minneapolis. The first five leaplings in the door are going to get a $229 flight voucher. Everyone else will get a chance to win some free travel. Also, if you're flying Sun Country on Leap Day, you can get a Fulton Lonely Blonde for $2.29. - [Get it]
Other Leap Day Travel Deals
- Amtrak: Get 50% off tickets purchased on February 28 and 29 for travel between March 7 and April 8. If you miss that deal, the train service is also running a buy-one-get-one-half-off deal for trips on the Pacific Coastliner. You can purchase tickets for that deal through the end of May. - [Get it]
- Megabus: If you've got a Leap Year birthday, you can get 29 vouchers for a free Megabus trip. Follow Megabus on Instagram and send it a direct message on February 29 with proof of your birthdate to put in your claim. - [Get it]
- Silvercar by Audi: To celebrate the extra day on the calendar, the car rental company is offering a free day of rental on trips book for the last week of the month. Use the code "LEAPDAY2020." - [Get it]
Leap Day Hotel Deals
- Great Wolf Lodge - Multiple Locations: The code "LEAPYEAR" will get you a room for $29 per person at any of Great Wolf's 18 locations. The rooms can be booked for any time from April 13 to May 21 with a minimum of two people per room. - [Get it]
- Hotels.com - Multiple Locations: Get 29% off a stay at select properties for stays from February through May. You can also toss on the code "LEAPYEAR2020" for a bonus 8% off. - [Get it]
- Kimpton Carlyle Hotel Dupont Circle - Washington, DC: Book on February 29 and get a 29% discount for reservations from April 1 through December 31, 2020. - [Get it]
- Pacifica Hotels - California and Hawaii: Book today and get 29% off select rooms for stays through May 31, 2020. The 24-hour sale requires that you book through the Pacifica website and use the code "LEAP." - [Get it]
Other Leap Day Offers
- iFLY Indoor Skydiving: Anyone born on Leap Day can grab a free flight. If you aren't a leapling, you can get 29% off two additional flights added to a flight package during Leap Year Week. - [Get it]
- Sunshine Fitness: Nonmembers can work out for free on Leap Day at any of its 89 clubs throughout Florida, Georgia, North Carolina, and South Carolina. - [Get it]
Sign up here for our daily Thrillist email and subscribe here for our YouTube channel to get your fix of the best in food/drink/fun.