LeBron James' Blaze Pizza Is Taking on Domino's With New Delivery, Bigger Pies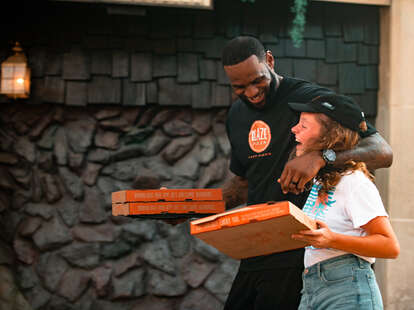 Courtesy of Blaze Pizza
Courtesy of Blaze Pizza
There's something uniquely satisfying about assembly line fast casual joints: standing behind plexiglass, customizing the lunch of your dreams, and watching as it's assembled before your very eyes. Chipotle nailed it (despite charging extra for guacamole) and Blaze took the concept and pizzafied it, ensuring your pizza dreams could have both Ovalini mozzarella and ricotta cheese as toppings.
Now, Blaze Pizza, the LeBron James-backed fast-casual pizza parlor, is supersizing the experience -- literally. Instead of its standard 11in pies, Blaze is now offering 14in party-sized pizzas to share (or not).
In addition to the larger sized pizzas, Blaze has also announced it will be taking on big pizza (namely, Domino's) with delivery options through platforms like DoorDash and Postmates. Domino's -- with its 15,000 storefronts across the world -- raked in $3.4 billion dollars in sales back in 2018, according to Yahoo Finance. Comparatively, Blaze Pizza has 341 locations across six countries, which are expected to bring in over $400 million dollars by the end of 2019. Plans to expand locations are in the works, but Blaze undoubtedly has a long way to go to catch up to the delivery titan.
But Blaze does have some edge: with toppings like Kalamata olives, vegan spicy "chorizo," and roasted garlic, it'll be even easier to get super-customizable pizzas delivered to wherever you're too lazy to leave. You can even get a cauliflower or keto crust, if you're into that sort of thing. The ingredients are unlike your average delivery spot -- and that's a good thing.
"Consumers continue to seek out better, fresher and more innovative options across most every food category," Daniela Simpson, general manager of Blaze's digital growth, said in a press release. "But legacy delivery pizza has remained stuck. Today, we are here to disrupt the category and give consumers what they deserve -- a better pizza."
In honor of the announcement, Blaze has launched a campaign to "Upgrade the Way You Pizza," encouraging eaters to try out the new 14in pies. From September 9 through September 12, any pizza ordered through Blaze's app or website is eligible for a free large upgrade. Whether or not you choose to share that pizza or eat a 14in pie by yourself, is entirely up to you.
Additionally, Blaze is offering free delivery from September 13 until September 29 at participating locations. All you have to do is order the pizza of your dreams through at blazepizza.com or through Blaze's app.
Pizza is a $40 billion dollar industry. Now Blaze is looking to get a slice of that pie -- but make it artisanal.
Sign up here for our daily Thrillist email and subscribe here for our YouTube channel to get your fix of the best in food/drink/fun.
Kat Thompson is a staff writer at Thrillist. Follow her on Twitter @katthompsonn.