Any college student can tell you the legal drinking age, what it used to be, and what it is in the country they're about to study abroad in. While most countries you only have to be 18 to have a beer at a public establishment, it's revealing to see the spread of drinking ages across the world. 
That's exactly what statistician Dr. Nathan Yau shows in a new visualization at his site FlowingData.com. Using information from Wikipedia, he has created a map showing how old you have to be to consume a beer at a public establishment in every country in the world.
Recommended Video
Please Don't Hang Up: The Best Things to See, Eat, and Do in Las Vegas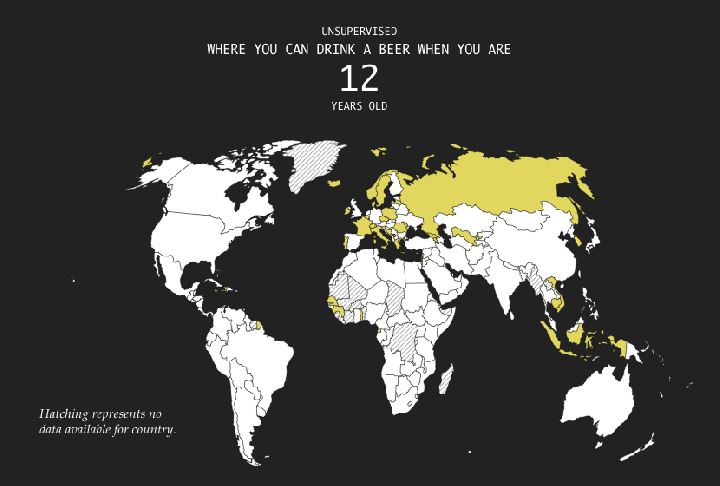 Nathan Yau
You'll notice some countries never light up. Countries that are shaded didn't have information available. Some forbid alcohol consumption of any kind.
The map is fascinating, though the laws are sometimes complicated. India has different laws depending on where you are in the country. Some countries have no restrictions. Others have elaborate restrictions. For instance, in the Maldives, where alcohol is forbidden, tourists are allowed to purchase alcohol at select locations.
Though things can get messy trying to collect all these laws in one place, the map concisely gives a sense of how the numbers shake out.
h/t Laughing Squid
Sign up here for our daily Thrillist email, and get your fix of the best in food/drink/fun.