Lego Made an Interactive Super Mario Set That You Can Actually Play Like a Game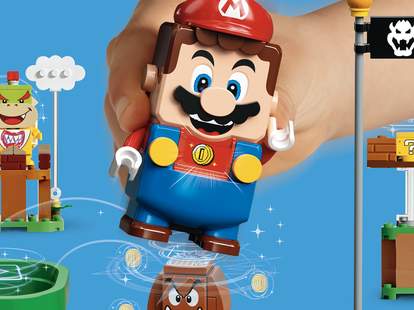 If you grew up basically anytime since the 80s, there's a good chance you at one point harbored dreams of running through any number of Super Mario levels, popping Goombas on the head and eating magical flowers.
You're going to have to wait a bit until the Nintendo World theme park opens. However, you can kind of get that experience through the first-ever Mario-themed set of Lego that allow you to actually build interactive miniature worlds that you can play almost like a video game. The sets feature an interactive Lego Mario, larger than a usual Lego figure, who can collect coins in "real-life game levels created with Lego bricks."
It sounds fun, but the descriptions sometimes get away from the reality of a set like this. To give you a better sense of how the sets work, Lego shared a video of the game in action, and it looks pretty wild. (Pending, of course, that it's as easy and fluid as it appears in the video.) Lego's announcement says the video "hints at" what you should expect when you build the sets.
"We are very excited to bring Mario into the physical world through interactive and social LEGO play," Julia Goldin, Chief Marketing Officer, EVP of the LEGO Group said in a statement. "With this experience, we will help millions of kids with love for Mario to engage and play in a completely new way, where they are in control of creating and playing games with their favorite character. By seamlessly incorporating the latest digital technology, LEGO Super Mario is a highly social, interactive, and collaborative experience for kids."
Details are still a little hazy as to how the whole set works. Though, at one point in the video, you can see a Bluetooth button on the back of Mario's head.
The exact release date is not yet available, though. The announcement simply says you can expect the release later this year. You'll be chucking Koopa Troopas before you know it.
Sign up here for our daily Thrillist email and subscribe here for our YouTube channel to get your fix of the best in food/drink/fun.