Leinie's Thinks Its New Beer-Seltzer Mix Will Be the Drink of the Summer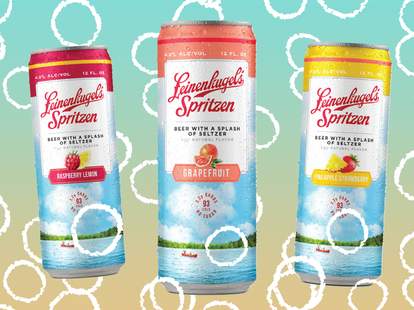 Courtesy of Leinenkugel's - Edited
Prepare yourself for the summer of hard seltzer part deux. The explosive growth of seltzer shows no signs of slowing in 2020. Loads of new boozy seltzers (not to mention, a traveling hard seltzer festival) are being unleashed on the thirsty masses, and Leinenkugel's, purveyor of Summer Shandy, has unveiled something a little different for your first summer outing.
Enter Spritzen. It's a beer with "a splash" of seltzer. (Spritzen is German for "splash.") Though, it's not a half-and-half mix. The Molson Coors-owned brewery is pushing one of those ingredients over the other. "To be really clear, Spritzen is a beer. It's beer with a splash of seltzer," Katie Leinenkugel, sixth-generation Leinenkugel and the company's brand strategy and engagement lead, told Thrillist.
In Wisconsin, where the brewery was founded, Leinenkugel's evokes doppelbocks, amber ales, and other malt-forward beers sipped in dusty garages and cold deer stands. But across the country, Leinenkugel's has become best known for Summer Shandy and its many, many variations. The prevalence of Shandy, which accounts for around 60-70% of the brewery's output, makes the refreshing new drink a logical release. "Our decision to launch Spritzen came from wanting to create something that was going to be a uniquely Leinenkugel's take on the popular hard seltzers that are everywhere," Leinenkugel said with a heavy emphasis on "everywhere."
Why not? Shandy is a beer with a little lemonade. Spritzen is a beer with a little seltzer. "Leinie's being such an old German brewery, we always kind of prided ourselves on pairing German tradition with American innovation," Leinenkugel said.
Though, like so many breweries, there's undoubtedly a feeling that chasing White Claw's rise is worthwhile. Especially given that IRI reports Summer Shandy sales were down 11.5% in 2019.
You'll be able to pick up the 93-calorie-per-can Spritzen in three varieties -- Grapefruit, Raspberry Lemon, and Pineapple Strawberry -- across the country starting today. You're that much closer to affecting a Jerry Seinfeld voice and saying Spritzen over and over until it loses all meaning in your mind.
Sign up here for our daily Thrillist email and subscribe here for our YouTube channel to get your fix of the best in food/drink/fun.