Leslie Jones' Live-Tweeting Was the Best Part of the Royal Wedding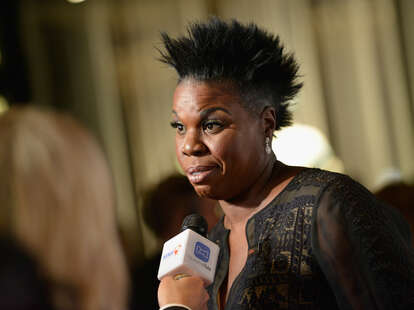 Ben Gabbe/Getty Images for TIME
After months of anticipation, America was finally gifted the royal wedding it deserved. Not to share any spoilers, but Prince Harry and Meghan Markle got married at the end. Also, people wore funny hats, Harry bit his lip while complimenting Meghan, and, we can all now go back to feeling smug about winning the Revolutionary War.
But before we do, let's take a minute to honor the real star of the royal wedding: Leslie Jones. She may not have been invited, or in the country, and she may have no ostensible connection at all to this situation; but the royal wedding belongs to all of us, and above all to the person making the best jokes about it. And Leslie Jones was objectively making the best jokes. (She also appeared as herself in the SNL skit about the wedding reception.)
She's had plenty of practice considering she tweeted her way onto the official Olympics coverage with her unique perspective on Olympic attire, and she brought all of that experience to bear and shared her take on all aspects of the royal wedding, including the Queen herself.
First, Jones gave voice to our collective indignation over how early this wedding started.
Next she graced us with some music criticism.
And then she talked about the queen, but mostly talked about how early this wedding was.
She tried to weigh in on Angela's veil but got distracted by how grumpy the Queen looked.
She was confused as we all were about an identifiable noise when the couple exited the chapel.
She was thrilled at the "amens."
And was even more thrilled with "braids at the royal wedding."
Sign up here for our daily Thrillist email and subscribe here for our YouTube channel to get your fix of the best in food/drink/fun.