Lightning Caused a Freak Toilet Explosion in Florida, so Maybe Don't Poop During Storms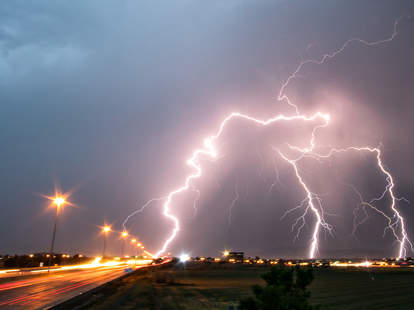 Most of us can remember a time when loved ones called us indoors as we played under a wide open sky, backdropped by flashes of muted light. Come under shelter, they probably said. Open spaces are the most dangerous places to be in a thunderstorm. But what will the next generation tell their children, now that lightning has destroyed a toilet that was safely secured in the home?
We've underestimated the forces of nature, my brethren. This past Sunday, a Post Charlotte, Florida homeowner heard a loud crack-bang and found in his home a toilet completely shattered by lightning. With windows to match.
Jordan Hagadorn, owner of A-1 Affordable Plumbing, responded to the incident. "This is probably the first time in history something like this has happened," he told The Washington Post, adding that it was almost like winning the lottery. 
Hagadorn said the lightning began as a strike in the yard that somehow achieved "perfect ignition inside the sewer." Which makes sense, but also, wut? He presumes that the bolt exploded the methane inside the sewer. The bolt then screwed up all the wiring and outlets. Smoke was reported. Neighbors said their houses shook. 
"Thirty percent of the pipes in the home need to be replaced," he said, per the report. "The lightning blasted a hole in the ground. There's piping on the roof."
The National Weather Service hasn't said it yet, but Hagadorn dropped in that unspoken tip:
"No more pooping while it's storming outside."
Sign up here for our daily Thrillist email and subscribe here for our YouTube channel to get your fix of the best in food/drink/fun.
Ruby Anderson's grandfather was struck my lightning twice and is still kickin' tho.