Ramen Pringles Just Hit Stores, But You Better Act Fast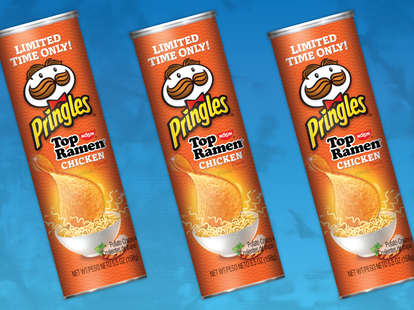 Frankly, many modern-day snack food flavor mashups seem a little forced (looking at you, Peeps Oreos), but occasionally we witness what amounts to the most perfect marriage between beloved junk foods (hellooooo, Taco Bell's Doritos Tacos). Luckily, there appears to be another that fits into the latter category now that a limited edition batch of Top Ramen-flavored Pringles have hit store shelves.
The lab coat-clad flavor engineers at Pringles recently teamed up with the folks at Nissin to concoct the perfect Top Ramen Chicken-flavored chip, masterfully dusted to taste just like those budget-friendly packs of 10-minute ramen you've undoubtedly treated yourself to at one point or another over the course of your life. You'll just have to brace yourself for flashbacks to your college dorm room.
Unlike the chipmaker's suite of weird and wacky standby flavors, this one's only available for a limited time, so you'll need to act fast if you want to savor the sweet, sweet ramen-y flavor explosion, sans the hot water. The special canisters are also only available at Dollar Store General locations, as they're the exclusive retailer for the limited run.
Get to it, ramen fiends.
Sign up here for our daily Thrillist email and subscribe here for our YouTube channel to get your fix of the best in food/drink/fun.