These Jobs Have the Biggest Salary Bonuses in the United States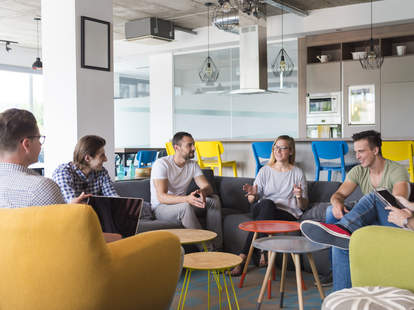 Salary bonuses do not grow on trees. But for a select few in the American workforce who already make a good amount of money in the medical and finance industries, hefty bonuses are a regular part of the job. When it rains money it pours bonuses.
Since LinkedIn likes to keep tabs on the most lucrative fields, inadvertently reinforcing how you're not employed in one, the company released results from another survey on Wednesday detailing which trades have the largest bonuses at the end of the year. Not surprisingly, you'll be left out of the windfall if you're just a humble shampooer. 
Just to get the potentially dispiriting news out of the way, here are the top 10 jobs with the highest median annual bonuses: 
Investment Banking Associate: 100,000 
Private Equity Associate: $85,000
Equity Research Analyst: $50,000
Surgeon: $50,000
Cardiologist: $50,000
Radiologist: $50,000
Orthopaedic Surgeon: $50,000
Investment Banking Analyst: $45,000
Senior Reservoir Engineer: $37,500
Wealth Management Advisor: $35,000
The report also provides a breakdown of the highest annual bonuses according to industry: 
Finance: $12,300
Energy & Mining: $11,400
Software & IT Services: $11,300
Hardware & Networking: $11,200
Consumer Goods: $10,800
Healthcare: $10,300
Manufacturing: $9,000
Entertainment: $8,300
Corporate Services: $7,000
Construction: $6,700
LinkedIn compiled these findings by surveying verified users, and only tallied industries and professions that had more than 50 respondents.
So if you're looking for a gift-wrapped bonus this holiday season, maybe consider a career change. Or just ask your boss to make it rain at the holiday party. That won't be weird or anything.
Sign up here for our daily Thrillist email and subscribe here for our YouTube channel to get your fix of the best in food/drink/fun.
 
Sam Blum is a News Staff Writer for Thrillist. He's also a martial arts and music nerd who appreciates a fine sandwich and cute dogs. Find his clips in The Guardian, Rolling Stone, The A.V. Club and Esquire. He's on Twitter @Blumnessmonster.