These Are the Top Companies to Work for, According to LinkedIn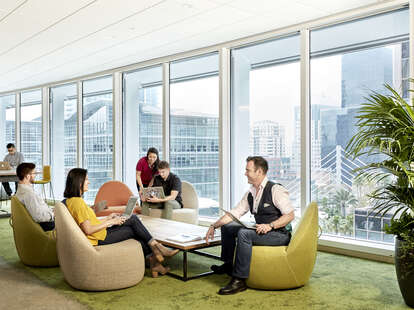 Companies love to tout every little reason why you should work for them. Great pay! Unlimited vacation days! Free snacks! A laid-back open office with a pool table! But even cushy perks like that aren't necessarily enough to become a sought-after employer. In fact, it takes a certain X-factor to be the "it" employer at any given time.
So where do people most want to work these days? Well, the folks at LinkedIn have crunched the numbers and have just released a brand-new list of the companies where professionals most want to work around the US.
To determine the Top Companies 2018 list, the LinkedIn team used a whole bunch of metrics based on the behavior of its users. Specifically, they gauged demand by looking at how often a particular company's job postings were viewed, and also considered how many users were scoping out the company's career page. Similarly, they checked how frequently non-employees were requesting to connect with current company employees. And finally, they considered retention by looking at how many employees stay for at least a year.
Taking the first spot this year is Amazon, bumping Alphabet -- Google's parent company -- down to number two from its top position last year. Facebook came in third, while Salesforce and Tesla took the fourth and fifth spots, respectively. Here's how the full ranking of the top 50 shakes out.
50. Abbott
49. Tableau Software
48. JLL
47. PepsiCo
46. Starbucks
45. Johnson & Johnson
44. Box
43. Twitter
42. Capital One
41. ADP
40. Square
39. National Football League
38. Kering
37. Citadel
36. WeWork
35. Nike
34. Accenture
33. National Basketball Association
32. Dropbox
31. Cisco
30. Stryker
29. EY
28. Morgan Stanley
27. Live Nation Entertainment
26. The Boston Consulting Group
25. PwC
24. Goldman Sachs
23. Verizon
22. Deloitte
21. Samsung
20. IBM
19. LVMH
18. JPMorgan Chase & Co.
17. Dell Technologies
16. Time Warner Inc.
15. Arbnb
14. Adobe
13. McKinsey & Company
12. Uber
11. Spotify
10. Netflix
9. Oracle
8. The Walt Disney Company
7. Comcast NBCUniversal
6. Apple
5. Tesla
4. Salesforce
3. Facebook
2. Alphabet
1. Amazon
The top 10 companies may not be all that surprising, but it's worth noting that 30% of the overall list are in the top 50 for the first time, including Spotify, Live Nation Entertainment, the NFL, and the NBA. Also notable, scandal- and problem-plagued behemoths like Uber and Twitter dropped significantly in position since last year. Specifically, Uber dropped from fifth place to 12th, while Twitter took a major tumble from 17th to 43rd place.
And while there's no hard and fast rubric to follow in order to land on the list, there are some interesting takeaways to consider regarding specific policies and benefits offered by some of the top-ranked companies. For instance, Amazon offers to prepay 95% of tuition, textbooks, and fees for employees to train in "professions of the future" while Salesforce does continuous audits of salary data to ensure equal compensation across race and gender. Some other notable perks: Alphabet's newest offices have indoor fire pits and bouldering walls, Apple employees get 25% discounts on new devices, and Tesla has a carpool program that allows employees to drive a Tesla to work, and keep it on weekends.
Feeling inspired to punch up the ol' resume?
Sign up here for our daily Thrillist email and subscribe here for our YouTube channel to get your fix of the best in food/drink/fun.