This Lisa Frank-Themed Apartment Is a '90s Kid's Rainbow-Filled Dream & You Can Stay in It
The '90s were a simpler time. We had our slap bracelets, pogs, and seemingly possessed Furbies. The challenges we faced included keeping our Tamagotchis alive and trying to decide between a dolphin, kitten, and unicorn Lisa Frank binder.
If you've ever dreamt, as a kid, what it'd be like to live within the confines of a Lisa Frank stationery set, them dream no more: The eclectic '90s brand has partnered up with Hotels.com to bring to life a Lisa Frank apartment of epic rainbow proportions. We're talking ocean-themed wall paper in the bathroom, with a dolphin toilet paper holder, as well as unicorn neon lights and all the plushies you'd ever want to cuddle with. And, yes, you can stay there.
"We wanted to design a room that celebrates all things '90s, and nothing screams childhood nostalgia more these iconic designs," Adam Jay, president of Hotels.com, explained in a press release. "Hotels.com is thrilled to bring this dream room to life with Lisa Frank, and to reward travelers with a blast from their past."
And what better reward is soaking in a bubble bath with a massive dolphin mural looming over you?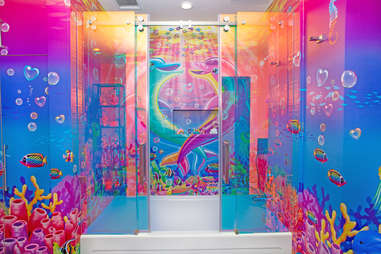 The decor isn't the only thing '90s about this penthouse stay. Guests will also have a massive selection of complimentary '90s snacks -- from Planters Cheez Balls to Gushers to Pixie Stix -- to gorge on. Our teeth hurt already.
"Over the past four decades, Lisa Frank fans have grown up enjoying our art in many forms," the Lisa Frank team said in a press release. "Many of them now book hotel rooms for themselves and their families, and we are excited to partner with Hotels.com to be able to offer this immersive Lisa Frank experience."
If you're interested in stepping through time and arriving in 1995, in the heart of Los Angeles, then you can book this penthouse apartment through Hotels.com here. Availability for this fluorescent room opens October 11, and you'll want to secure a booking ASAP. The pop-up apartment will run through October 27, so plenty of time to get reacquainted with scrunchies, choker necklaces, and glitter body gel.
Sign up here for our daily Thrillist email and subscribe here for our YouTube channel to get your fix of the best in food/drink/fun.
Kat Thompson is a staff writer at Thrillist. Follow her on Twitter @katthompsonn.