Little Caesars Is Offering Delivery Again for the First Time in 20 Years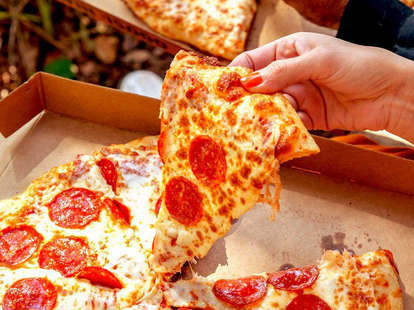 Courtesy of Little Caesars
Courtesy of Little Caesars
Little Caesars has always been a champion for the quick and convenient. The chain's $5 Hot-N-Ready Pizzas are for pizza cravings that need to be satisfied ASAP, and at a generous price. Now, Little Caesars wants to take that convenience and efficiency to the next level by bringing back pizza delivery service.
For the first time in over 20 years, you can order Little Caesars and have it delivered, the company announced on Monday. This news might just be crazier than that one time when DiGiorno delivered.
"We've seen such expensive and complex pricings throughout the pizza industry, and we think it's crazy," David Scrivano, president and CEO of Little Caesars, said in a statement. "Some chains require a minimum purchase to get their deals, or the discount pricing is only available on carry-out orders. We're excited to bring much needed affordability to delivered pizza. We've long been known as 'Best Value in America,' and now you can get an amazing value whether you walk in our door or we deliver to yours."
The delivery service arrives as a partnership with DoorDash and can be ordered exclusively through the Little Caesars app or website. Delivery drivers will be able to pick up the Hot-N-Ready pizzas awaiting in Little Caesars' signature warming "pizza portals" and deliver straight to your door. Just don't forget to tack on an order of Crazy Bread, too.
Sign up here for our daily Thrillist email and subscribe here for our YouTube channel to get your fix of the best in food/drink/fun.
Kat Thompson is a staff writer at Thrillist. Follow her on Twitter @katthompsonn.