Little Caesars Is Launching a Pizza Vending Machine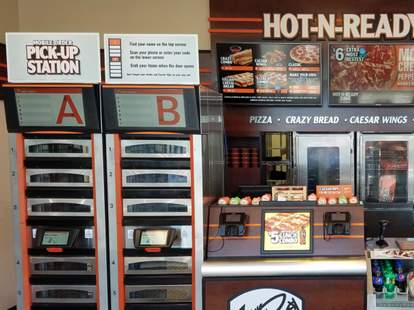 Little Caesars wants to be the pizza joint you turn to when you need pizza at breakneck speed. The chain previously had the Hot-N-Ready special, where you walk in, grab a pizza and go. However, Little Caesars noted a couple issues with that system. (One for every "pizza" in the company's slogan.) First, your ordering options are limited. Second, you have to talk to a human being. Horrible, right?
Enter the Pizza Portal, which is likely the name of an amazing student film somewhere. This Pizza Portal won't take you to another dimension, but it will take you to your order without all that messy human interaction. It's pizza that caters to introverts like gas, cash, and candy bars already do.
The vending machine-like devices will debut in Tucson, Arizona. All you need to do is order your pizza and pay on the app. The app generates a QR code to scan at the store, and the drawer with your pizza automatically opens.
"It's cool," David Scrivano, CEO of Little Caesars, told USA Today. "It's all about convenience. In and out in seconds. No line. No wait."
The device is reminiscent of the Sprinkles' Cupcake ATM in Manhattan. Like a cupcake vending machine, the machines are low impact, for now. The company hopes to have 100 installed by the end of the year. That will be followed by a full rollout in 2018. It may not have arrived for everyone, but you'll soon be able to get a pizza without talking to anyone. But if you still crave that interaction, you're welcome to yell "pizza pizza" while picking up your order. 
Sign up here for our daily Thrillist email, and get your fix of the best in food/drink/fun.
Dustin Nelson is a News Writer with Thrillist. He holds a Guinness World Record but has never met the fingernail lady. Follow him @dlukenelson.