You Can Now Stay in This Epic 'Little Mermaid' Malibu Beach House
Booking.com and Disney are offering three limited immersive experiences, flights included.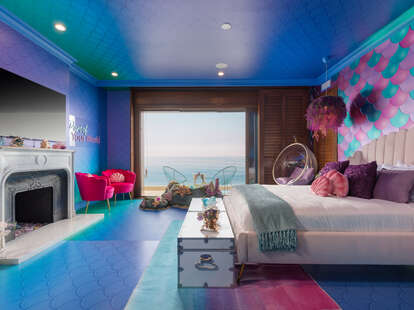 Photo courtesy of Booking.com
Photo courtesy of Booking.com
On June 7 at noon ET, get ready to fire up your laptops to book an "under the sea" stay—except, you won't be getting wet.
To celebrate the upcoming Disney movie The Little Mermaid, which is finally coming to theaters on May 26, Booking.com partnered with Disney to offer three amazing stays inspired by the much-anticipated film.
Three lucky guests who manage to book the vacation will have the chance to experience a full immersion into the movie. They'll get to stay overnight in a Malibu beach house, which has been completely revamped to transport travelers into the world of The Little Mermaid. In addition to rooms inspired by the movie's iconic characters, including Ariel, Ursula, King Triton and Prince Eric, guests will also be treated to a private dinner hosted by a personal chef, and they'll get the chance to go watch a screening of The Little Mermaid at a theater near the house. The price of it all? Just $5.26 as a nod to the day the movie hits the theaters. And don't worry about transportation, either—each experience comes with complimentary flights and airport transfers.
But you better act fast once the stays become available to be booked, since there are only three of those. Starting on June 7 at noon ET, the immersive stays will become bookable on Booking.com at this link. Each separate experience will feature an overnight stay, and they'll take place on June 9, 10, and 11.
If you can't snag one of the movie-inspired Malibu stays, you're not totally out of luck. Booking.com has also put together a selection of stays available on its website that are inspired by and remind travelers of The Little Mermaid, including beachfront rentals, seaside resorts, and many more. You can check out some of them below:
Atlantis, The Palm - Dubai, UAE
Beach Plum Resort - Montauk, NY, US
Château d'Esparron - Esparron-de-Verdon, France
Fanad Lighthouse - Letterkenny, Ireland
Lighthouse on La Palma Island - Barlovento, Spain
Corsewall Lighthouse Hotel - Kirkcolm, UK
Aleria Luxury Cave Santorini - Santorini, Greece
For more information and to book your stays, you can visit Booking.com.
Below, find more photos of the Little Mermaid Malibu beach house: