Stream the Northern Lights from Your Home Tonight (and Every Night)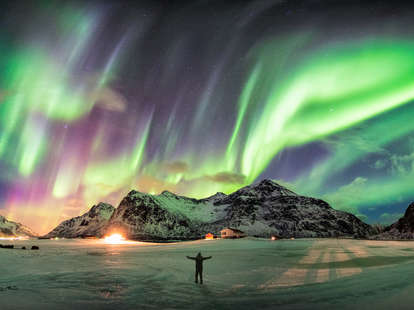 The northern lights might be the only absolute, must-see bucket list travel item that exists in the sky. With so many other activities unavailable, it's fortunate that stargazing remains a great activity in the time of social distancing. However, you're probably not traveling north to get somewhere with a good chance of seeing the aurora right now.
In the absence of an Arctic adventure, you can take a mini trip right from your home. Every evening, Polar Bears International and Explore.org are streaming the night sky. (The stream is visible in the video player below.) So, you can camp out at home and wait for the sky to light up just like you might see in Sweden, Iceland, or, possibly, the northern edge of Manitoba on the Hudson Bay where the camera is situated at the Churchill Northern Studies Centre.
It might seem easy enough to stream, but BJ Kirschhoffer, director of field operations with Polar Bears International, explained to Thrillist by email that it's more complicated than you'd expect.
"The system that makes the Northern Lights cam work is extremely complex," he said. "We shoot the internet over 51 miles of tundra to bring these streams to people all over the world. Not only does the system require sophisticated equipment but also partnerships. Polar Bears International and Explore.org work with the Churchill Northern Studies Centre, Parks Canada, Frontiers North Adventures, and the local school system to make this all work."
The stream is in its eighth year of operation but has seen lots of additional viewers since the start of the novel coronavirus pandemic.
"When originally conceived, our goal was to utilize our existing infrastructure to provide a view showcasing another one of nature's totally amazing phenomenons to anyone curious enough to click a link and explore on the internet," Kirschhoffer said. "In the current situation where people are encouraged or even forced to stay at home because of COVID-19, I think the aurora camera and the other explore cams offer people a taste of nature where they may not otherwise have the opportunity."
If you're longing for the zen nature provides, you can still sit outside at night and stare up at the stars. However, if you want one of the best shows you can see in the sky, tune into the stream and hope you picked a good night to take in the aurora.
Sign up here for our daily Thrillist email and subscribe here for our YouTube channel to get your fix of the best in food/drink/fun.