Lose Yourself in This Epic Thread of Animal Live Cams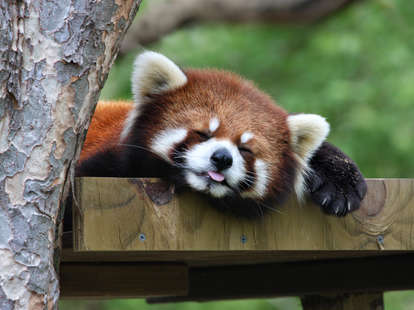 Debbie Steinhausser/shutterstock
Debbie Steinhausser/shutterstock
Animals! They're just like us, but without the technological resources and mental capacity to spiral on Twitter. In times of global unrest, they simply go about their day, eating bamboo and scratching themselves and pooping lawlessly, and it brings us humans great comfort to see them do it.
And now, thanks to Dr. Margie Housley, an English Postdoc at Notre Dame University, we have a spirit-lifting thread of online animal cams to lose ourselves in. Housley, otherwise known as @margiehousley, started a Twitter thread on March 16, and it's since accrued over 10,000 likes. It's a motherlode of precious animal live streams and we are so thankful for it in these trying times.
The cams include the giant panda cam from the Smithsonian's National Zoo, a burrowing owl cam from San Diego, and a gnarly peek into the Bat World Sanctuary.
You can check out the full thread here, or you can take a gander at penguins going on dates at closed-down aquariums in Chicago! Or you can watch your goldfish make slow circles around a tiny plastic aquarium plant as Debussy plays somberly in the background.
Sign up here for our daily Thrillist email and subscribe here for our YouTube channel to get your fix of the best in food/drink/fun.