Local Distilleries Are Joining the Battle Against Coronavirus by Making Hand Sanitizer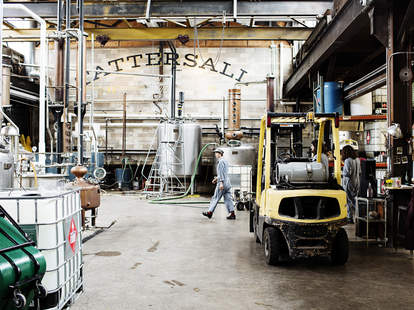 Courtesy of Tattersall Distilling
Just a month ago, the shift that has now taken place in America's craft distilleries would have been unimaginable. Yet, with bars closed and small craft distilleries in dire straits, the people who were slinging libations down the street in February are making hand sanitizer and fighting a global pandemic in March. 
It's not limited to small independent distillers. Anheuser-Busch is doing it as well. But those companies with far less means are leading the way in their own communities, despite significant distribution and regulatory obstacles. It took some doing, but at the local and federal levels, the path has been cleared for distillers to start combatting a hand sanitizer shortage during the COVID-19, or new coronavirus, pandemic. Many of the distilleries making hand sanitizer are providing it free of charge to nursing homes, prisons, fire departments, first responders, and health care workers who can't get ahold of it otherwise.
"It seems like we've been doing this for a year and in reality, it's only been a few weeks," Jon Kreidler from the Minneapolis-based Tattersall Distilling said via phone. "We have the ability to help the community, so we're trying to do that. It's overwhelming, the need."
Tattersall had hoped to just make donations of hand sanitizer, but it's not that easy. There are still bills and employees to pay.
"We're charging now. It's about 80% donations," he said. "We're using the money to keep us afloat, so we can donate where the need is."
Courtesy of Tattersall Distilling
The shift for distillers puts the pandemic in perspective. The situation has required massive steps from individuals who take the health of their community seriously to contain the outbreak as much as it has been so far.
Not only is there a shortage of hand sanitizer, but pretty much everything needed to put it on the shelves. The process to make it might be a relatively easy change for distillers, but the production hasn't been a (properly socially distanced) stroll in the park. Shortages of the chemicals needed for production have been an obstacle, as has acquiring containers for the sanitizer.
"We don't have much of what we need right now. We're making it as fast as we can and as we go," Natasha DeHart, Co-Owner of Bendt Distilling Co. in Lewisville, Texas, told Thrillist. "But there are a lot of things right now that are just completely out across the nation. So anyone that can do this is trying to do it."
That was repeated by every distiller I spoke with.
"The inventory is completely gone," Kreidler said. "We're buying bottles to be delivered in mid-April. It's unbelievably difficult to get packaging."
If those obstacles can be overcome, distribution becomes yet another hurdle to be cleared. At Spirit Hounds Distillers in Colorado, part of a smaller community, head distiller Craig Englehorn says he finished a batch and the fire department walked over, grabbed some, and left. While it hasn't all been simple for Spirit Hounds, it gets even more complicated in larger communities where the need far outweighs the supply. That's both in terms of physically getting someone to pick up sanitizer and get it where it's going, and to decide where it's going in the first place.
"As people found out we're doing this over the last few days, my inbox has been flooded," Kreidler said.
It's put them in a position of ranking need, a difficult position for someone who was more concerned about gin and whiskey a month ago.
"Man, I actually woke up in the middle of the night and fretted about it, you know?" Englehorn said. "I'm going to have to go to work tomorrow and make choices about who gets this and who doesn't."
Those decisions have some distillers hoping local governments can step in and help facilitate donations to people in need. Though, the requests aren't just local. Englehorn says he got one request from a member of the US military in Germany asking Spirit Hounds to mail hand sanitizer.
It's one of many complicated situations arising in the wake of the outbreak, only to find that local establishments supported by the community are willing to give that support back in a time of need.
Sign up here for our daily Thrillist email and subscribe here for our YouTube channel to get your fix of the best in food/drink/fun.