Throwing a Steak Dinner Party Is Way Easier (and Cheaper) Than You Think
Are you low on cash but still want to party like a baller? Well, we're here to help. Welcome to
$30 Dinner Party
, Thrillist's brand-new series created to help people just like you throw killer dinner parties for very little money. Join host Lee Kalpakis as she creates special recipes for you to wow your friends and family on the cheap with new episodes every Monday at 2pm ET on Thrillist's YouTube channel.
Unless you're cooking for a special occasion, steak or other prime cuts of beef probably aren't the best types of meat to serve at a dinner party. If you're buying for multiple people, most cuts of beef will quickly break the bank. However, a filling steak dinner -- with plenty of meat to go around -- on the cheap isn't totally out of the cards... if you know what to get and how to cook it perfectly. Really, we can prove it. 
In a new episode of Thrillist's brand-new series, $30 Dinner Party, host Lee Kalpakis heads to Bushwick, Brooklyn to meet up with guest, Eldar Nazyrov, who'd like to throw a wallet-friendly dinner party for friends while he continues to save for his passion, travel. Eldar hails from Russia, where grilling is basically a national sport, so he's hoping to make a meal with delicious grilled meat as the centerpiece. While most steaks would easily exceed Eldar's $30 budget, Lee knows just the dish that will meet his carnivorous criteria without breaking the bank: London broil. From there, they build out the menu to include a wedge salad with lemon dill yogurt, crispy smashed potatoes, quick pickles, and sparkling vodka mint coolers. 
Watch as Lee and Eldar plan the meal, pick up the ingredients at local grocery stores, cook each dish step-by-step, and serve a complete steak dinner to positive reviews from his guests. And, yes, all four dishes (and the drinks) cost less than 30 bucks -- $29.61, to be exact. Lee and Eldar prove that you can indeed serve a hearty and delicious steak dinner for multiple people on a tiny budget. He manages to entertain his friends with great food and still save cash for his travels. Mission accomplished.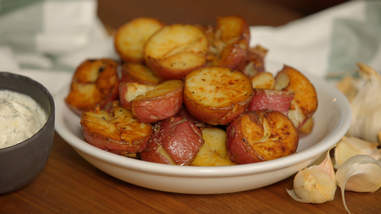 Thrillist Video
Grocery list with prices
1.5 pounds top round London broil -- $8.81
Mustard seed -- $3
2 pounds red-skin potato - $4
Fresh dill -- $1.50
Fresh mint -- $1.50
1 lemon -- $0.50
1 cup yogurt -- $1
2 English cucumbers -- $2
Pint of vodka -- $6
Iceberg lettuce -- $1.30
Total price: $29.61
Pantry staples you'll need
Salt
Pepper
Oils
Vinegars
Garlic
Cayenne
Garlic powder
Oregano
Paprika
Ketchup
Hot sauce
Flour
Sugar
Butter
Baking powder
Baking soda
Vanilla
Cinnamon
Red pepper flakes
Thrillist Video
Lemon dill yogurt sauce
INGREDIENTS:
1 cup plain full-fat yogurt
1 tablespoon fresh dill, minced
1 large garlic clove, minced
2 teaspoons olive oil
1 teaspoon red wine vinegar
Juice and zest of a lemon
Salt and black pepper to taste
DIRECTIONS:
Combine all ingredients in a small bowl and stir until smooth. Chill until ready to use.
Wedge salad
INGREDIENTS:
1 head iceberg lettuce
½ cup yogurt lemon dill (recipe above)
2 tablespoons mint leaves
2 tablespoons cilantro leaves
DIRECTIONS:
Cut the lettuce into wedges. Top each wedge with a couple tablespoons of yogurt sauce and sprinkle with herbs.
Crispy Smashed Potatoes
INGREDIENTS:
2 pounds red-skin potatoes
½ cup olive oil
3 cloves garlic, minced
Kosher salt and pepper to taste
Dill for garnish
DIRECTIONS:
Preheat oven to 425. Heat baking sheet in the oven for at least 10 minutes.
Add potatoes to a medium pot; cover them with 2 inches of water and add a handful of salt. Bring pot to a boil and cook potatoes for about 10 minutes (until tender... test with a fork). Drain and dry.
Place potatoes on cutting board and flatten by applying pressure with hand and a spatula. Combine olive oil and minced garlic in a small bowl. Place smashed potatoes on the heated baking sheet. Drizzle the oil and garlic mixture over potatoes and sprinkle with salt and pepper. Bake for 20-25 minutes, until potato skin is golden brown and crispy.
Remove from pan and garnish with dill.
London broil
INGREDIENTS:
1 top round London broil
2 teaspoons black pepper
2 teaspoons kosher salt
2 tablespoons mustard seed
2 tablespoons sugar
2 teaspoons garlic powder
½ teaspoon cayenne pepper
DIRECTIONS:
Preheat grill to high.
Mix salt, pepper, mustard seed, sugar, garlic powder, and cayenne in a small bowl.
Apply dry rub by massaging it into the entire exterior of the meat.
Grill meat for 5-6 minutes. Uncover and flip meat. Grill on other side for another 5-6 minutes for medium rare.
Let rest on cutting board for 5 minutes before slicing.
Quick pickle
INGREDIENTS:
1 cup white vinegar
1 teaspoon salt
¼ cup sugar
1 tablespoon mustard seed
Fresh dill
1 cucumber sliced thin
DIRECTIONS:
Combine all vinegar, salt, sugar and mustard seed in a jar. Seal and shake until sugar is dissolved.
Add cucumber and dill to the jar and let marinade until ready to serve.
Sparkling vodka mint cooler
INGREDIENTS:
1 cup mint leaves
¼ cup sugar
1 lemon, quartered
1 pint vodka
1 liter seltzer
Ice
DIRECTIONS:
Juice lemon quarters and add them to a large pitcher. Sprinkle mint and sugar over the lemon. Muddle together with the back of a wooden spoon until everything is  crushed and combined.
Pour in vodka and stir, making sure the sugar is dissolved.
Top with ice and seltzer. Serve immediately.
Do you live in the NYC area and want to throw a killer dinner party but don't think you can afford it? Well, let us help you out! We're looking for our next guest to be featured in $30 Dinner Party. Our host will create special recipes for you to wow your friends and family at an ultimate dinner party. If you're interested in being a featured guest on the show, email casting@thrillist.com with your story!
Sign up here for our daily Thrillist email and subscribe here for our YouTube channel to get your fix of the best in food/drink/fun.


Tony Merevick is Senior News Editor at Thrillist and wishes he could grill at his apartment. Send news tips to news@thrillist.com and follow him on Twitter @tonymerevick.