A Fancy, 3-Course Dog Brunch Restaurant Is Now a Real Thing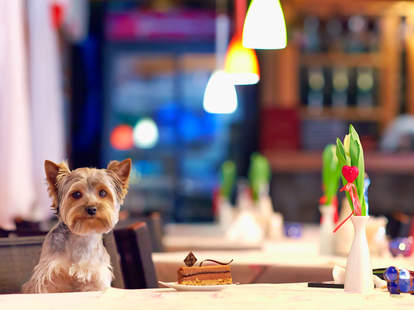 Everyone's heard of the cat cafes slowing taking over the world with meowchiatos and cat-ppuccinos, or even a new concept dubbed as a hedgehog cafe. But now, a London restaurant called Bluebird is taking the pet-themed cafe trend to a whole new level -- if not way too far -- with a fancy brunch described as "a real 'Michelin-star' style doggy dining experience." Woof.
As explained in a report by Mashable, the Chelsea neighborhood restaurant has teamed up with a store called Pet Pavilion to launch a dog brunch pop-up this month, "Bites and Bones." Mere bones or bone-shaped treats, however, are not on the menu. Instead, your furry friend will be served a three-course meal, which includes a venison sausage dish that comes with "beefy brown rice" and beef broth, a main course of chicken and lamb "Barkenberg" loaf, and a sweet potato-peanut butter macaron filled with "doggy gelato" for dessert. Those who attend the pop-up's VIP launch party on April 27th will also get their paws on some "Pooch Hooch," or dog-friendly beer.
The pop-up runs from April 27th to May 1st, according to the restaurant's website. And while the description makes no mention of the price for the meal, it's probably safe to assume the fine-dining experience will be reserved for the city's bougiest pooches and will include plenty of tacky K-9 clothing -- just with less selfie-taking, and hopefully, fewer mimosas.
Sign up here for our daily Thrillist email, and get your fix of the best in food/drink/fun.
Tony Merevick is Cities News Editor at Thrillist and dog-friendly restaurants are just another painful reason why he wishes he could have a dog. Send news tips to news@thrillist.com and follow him on Twitter @tonymerevick.