Airport Security Lines Are Somehow About to Get Worse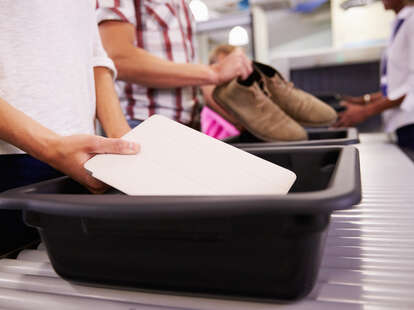 Rarely does the Transportation Security Administration get much love. And with good reason: airport security lines suck. Now any love is about to become even rarer, as TSA lines are expected to somehow get even longer.
Thanks to a combination of ridiculously cheap airfare and the TSA being under staffed, wait times at airport security are expected to reach newly hellish levels during the summer travel season. The Office of Homeland Security acknowledged the problem in a recent statement by Secretary Johnson on its website, stating, "TSA Administrator Admiral Neffenger and I are acutely aware of the significant increase in travelers and longer wait times at airports, and their projected growth over the summer."
Security expert Bruce Schneier told CNN Money that "The issue is man power. There are not enough TSA agents to handle the load of summer travelers." Other measures such as the increase use of canines, and encouraging flyers to use TSA Precheck, are also in the works to combat these ever-growing wait times, But, as things stand, CNN Money reports that flyers should prepare to arrive two hours ahead of time for domestic flights to accommodate the problem. Plan accordingly.
That two-hour wait time is unfortunately right on point if you're flying out of NYC where, according to CBS News, the average maximum wait time between mid-March and mid-April was already up by 82%. Even the Port Authority claimed that "The patience of the flying public has reached a breaking point." Seconding this point, flyer Heidi Kerns told CBS News, "The flight only took two hours, but you had to get to the airport two hours early, you know, to get through the security line, which is kind of unfortunate." When the wait time is equal to the flight time, that's pretty bad.
It all sounds depressing and inconvenient, but hopefully new measures implemented by the TSA will soften the blow. And if not, well, at least travel is cheap right now. So that's something?
Sign up here for our daily Thrillist email, and get your fix of the best in food/drink/fun.
Kara King is a News Writer at Thrillist and turns into the Grinch when standing in all those lines, lines, lines. Send news tips to news@thrillist.com and follow her at @karatillie.