This Social Media 'Hotline' Is Offering Live Grilling Advice for Memorial Day Weekend
Grill Masters will be on standby to help with any question you've got.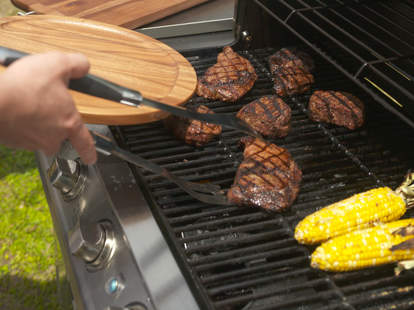 Courtesy of LongHorn Steakhouse
Big gatherings of friends in a park or hitting your favorite steakhouse might not be on the menu for Memorial Day this year. That will leave a lot of novice grillers in the lurch, longing for that perfectly grilled steak or burger. Rather, longing for that perfectly grilled steak or burger someone else grilled. If you're fearing what happens when you're given the reins over lighter fluid and charcoal, help is just a tweet away. 
LongHorn Steakhouse is firing up a social media "hotline" to help you sort out any number of grilling issues you may encounter while you pretend to be the best pitmaster in the neighborhood. The chain steakhouse is putting its team of "in-house grilling experts" to work throughout Memorial Day weekend.
All you have to do is post your query to Twitter or Instagram with the hashtag #LHGRILLUS or post a question on the LongHorn Facebook page. A representative tells Thrillist that the LongHorn Grill Masters will be on "standby during peak grilling times." They didn't have an estimate of how long it will take for someone to get back to you, instead, they noted that it'll be as "quickly as possible."
Either way, someone will get back to you with a response that you can check discreetly on your phone while pretending that someone else just texted you for grilling advice. Oh, you're so good and so, so sneaky.
Sign up here for our daily Thrillist email and subscribe here for our YouTube channel to get your fix of the best in food/drink/fun.