This 'Lord of the Rings' Bar Will Take You Straight to Middle Earth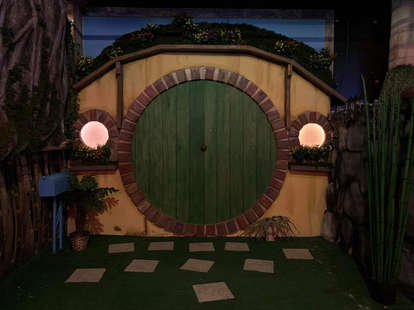 Courtesy of Replay Lincoln Park
Tom Bombadil fans unite. It's time to live out your fantasies of a world where Peter Jackson didn't forget the existence of your favorite character.
Chicago's Replay Lincoln Park is hosting a Lord of the Rings-themed pop-up bar called The One Pop-Up to Rule Them All through March 23. The arcade bar is known for hosting extensive artist-created pop-up events with themes like The Simpsons, Rick and Morty, and Game of Thrones.
Replay is setting up custom artwork and photo opportunities all over the bar, with Ring Wraiths and Balrog among the melee. You'll also (somehow) be able to travel through the Mines of Moria and Minas Tirith, according to the announcement.
The food is going to be made by Zizi's Cafe with treats worthy of a one-hundred-and-eleventieth birthday party. Options are going to include Fried Po-tay-toes, Lord of the Wings, Frodo's Dolma, Beef Lembas, Gandolph's Corn Staff, Pippen's Popcorn, and Onion Ring to Rule Them All. To quench your thirst, there will be three separate bars scattered in the space, The Prancing Pony, Minas Tirith, and Mordor. Each bar will have its own specialty cocktail menu, which is, you guessed it, Lord of the Rings-themed. Get an Evenstar, Narya-Ring of Fire, or a Vilya-Ring of Air. Whatever those are, they'll be fun to order while you're dressed as Radagast the Brown.
Even more appealing (depending on your level of Rings fanaticism) is that there are more than 60 free arcade games and pinball machines, and there's no cover, because that's how Hobbits roll.
Sign up here for our daily Thrillist email and subscribe here for our YouTube channel to get your fix of the best in food/drink/fun.