Lots and Lots of People Are Having Sex in Airports Instead of on the Plane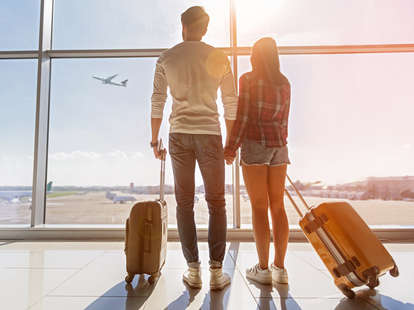 Blame long TSA lines and airlines wanting you at the airport hours ahead of your flight. A new survey has revealed more people are opting for sex in the airport than are angling to join the Mile High Club. In fact, 1 in 10 American travelers says they've had sex at the airport, according to the survey from US.Jetcost.com.
The flight-shopping service surveyed 4,915 Americans over the age of 18 who have flown at least once in the last two years. It found airport sex was happening more than sex in airplanes. Only 8% of respondents got it on inside the plane. (To be fair, it's tricky.)
Among those who had a "sexual encounter" at the airport, 42% did it in a bathroom stall. Another 28% had sexy time in a "storage cupboard," 14% got their kicks "under a coat," and 12% claim to be fancy (no) pants who did it in a VIP lounge.
All-in-all, airport thrill-seekers have an impressive success rate. Only 17% of couples were caught in flagrante delicto by airport staff.
Additionally, 5% of respondents hooked up with a total stranger, while 87% went to it with their traveling partner.
The 8% figure for the Mile High Club lands near the middle of other similar surveys. A 2010 Sensis Condoms survey said 3% of travelers have joined the Mile High Club. A 2011 Skyscanner survey got drastically different results, with 20% saying they've attempted air-coitus.
This survey's true aim was to discover how people spent time at the airport while waiting for their flight. Sex just happens to be the most interesting thing going on. 67% of travelers grab a drink or something to eat, 54% shop, 41% play games on a smartphone or other device, 29% stream shows or movies, 25% read, and 11% check email.
If you find the turbulence of the friendly skies to be a hindrance to vacation sex, you're not alone. Lots of people are getting a head start, though the survey doesn't specify how many travelers are doing it in the airport and on the plane. There's probably a middle section to that Venn diagram.
h/t Washington Post
Sign up here for our daily Thrillist email, and get your fix of the best in food/drink/fun.
Dustin Nelson is a News Writer with Thrillist. He holds a Guinness World Record but has never met the fingernail lady. Follow him @dlukenelson.