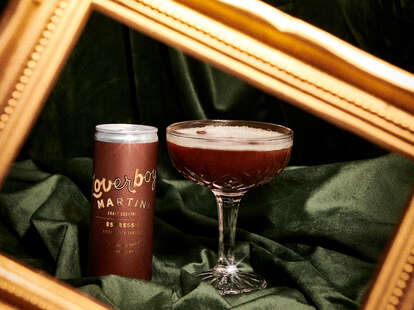 Espresso martinis are having a moment. And while, of course, the classic cocktail has been around the block, as of late, it's popped up just about everywhere—and now, that can even include your own fridge.
Boozy beverage maker Loverboy is introducing a canned espresso martini that boasts 110 calories, 12% ABV, and the perfect vanilla hint. The 250ml slim cans are also dairy free and won't set back those summer bod goals, with just 1g carb and 4g sugar in each serving. ICYMI, that's quite the departure from your typical cocktail bar espresso martini that'll run you closer to 300 calories and over 20g of sugar.
"For the last two summers, we've been ordering espresso martinis," founder and Bravo star Kyle Cooke told Thrillist. "And similar to why we launched the Loverboy Spritz—we wanted a better-for-you version of the Aperol Spritz—it's the same exact thing for the martini."
After exploring over 20 iterations, Cooke—along with his fiancé, creative and branding director, Amanda Batula—landed on a recipe that combines orange wine, maple water, vanilla, MCT oil, and espresso coffee extract. And while it tastes a whole lot like what you'd get from your local watering hole, it cuts out the inconveniences like, say, ingredient costs and the need for an actual espresso maker.
Because it comes in a can, naturally, you can drink it as is, but you can also elevate the experience and play bartender.
"If you want that frothy top and you plan on putting it into a martini glass, you should put some ice in a shaker, pour the can directly in, line up two glasses, shake it up, and serve it straight, chilled," Cooke continued. "The ice from the shaker will also water it down a teeny bit and take the edge of that sweetness if it isn't your thing."
The Loverboy Espresso Martinis are available exclusively online for nationwide shipping beginning April 8.
Megan Schaltegger is a staff writer at Thrillist.