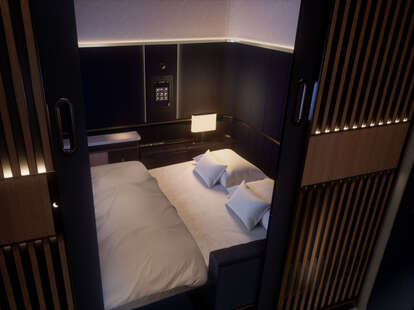 Courtesy of Lufthansa Airlines
Courtesy of Lufthansa Airlines
Let's get vulnerable for a moment. Lufthansa's newly announced First Class offering—its new "Suite Plus"—is nicer than some of the apartments I've lived in over the years. I'm not bitter, I'm honestly impressed.
The airline's new First Class "Suite Plus" is being described as a "private room above the clouds." It is a separate double cabin that comes complete with ceiling-height walls, a fully closable door, a large table, and two wide seats that can be wedged together to form a lay-flat double bed. The suites also offer a suite wardrobe and the seats can be warmed or cooled to each traveler's liking.
The new suites are slated for a 2024 premiere aboard newly delivered Airbus A350s. They are part of the broader "Lufthansa Allegris" overhaul the airline is undergoing which we previously reported on last fall. It is all part of what the airline says is the largest fleet modernization in its 70-year history.
The overhaul includes upgrades for Business Class, Premium Economy, and Economy passengers, too. The airline's Business Class fliers will soon have the option to book their own suites with chest-high walls, sliding doors, a monitor up to 27 inches in size, a personal wardrobe, and a minibar. Once the overhaul is complete, Business Class travelers will have a total of seven seating options to choose from.
Updated Premium Economy seating on Lufthansa will offer more legroom, a fold-out leg rest, and the ability to adjust their seat further backward without disrupting other fliers seated behind them. Economy seating as a result of the revamp will also make it easier for Economy fliers to get more legroom, too.
Lufthansa is the latest in a number of international airlines that are in the midst of dramatically upgrading their premium offerings to woo travelers. Last week, Qantas Airways unveiled its Next Generation Business suites with sliding doors and in-suite recliners, while Air France is rolling out its impressive new Business Class cabins worldwide.