There Are No Boys Allowed on This Luxury Yoga Island
When Kristina Roth arrived in New York, she had two suitcases, and a battery of ill-informed fantasies derived from Sex and the City. When she left the island of Manhattan, it was for a different island: a land mass floating in the Baltic Sea where men (and sugar) are outlawed.  
"No Boys Allowed" tends to be the favored real estate philosophy amongst 13-year-old girls, but unfortunately, testosterone is fairly difficult to circumvent in the adult world. There are sororities, if you're willing to sacrifice an appendage for the sake of sisterhood. There are man-barring venues like The Wing, a hyper exclusive clubhouse for the ultra cool girl and her Outdoor Voices tote. But until this year, nothing came close to an 8.5 acre island of female-only territory, separated from the nearest penis by a literal sea.
Floating just off the coast of Finland, SuperShe is the resort of yogi dreams, providing week-long retreats to a heavily-vetted class of women from all over the world for a mere $4,600. There is no alcohol, no caffeine, and no sugar -- but there will be women, edible flowers, and graffitied walls that exclaim things like "Yaaaaaas!" or "No Bra? No Problem!"
Courtesy of Supershe Island
"I sold my consulting firm to focus more fully on creative projects," Roth tells Thrillist over the phone. "I was running a blog, and I was fostering a community of women I like to call SuperShe's. When I saw the island was for sale, I had the money from my business. It just felt right." She neglected to mention the fact that her firm sold for $45 million dollars, which explains the island's wildly chic Vogue-approved cabins, and the luxury Swedish beds ($150,000-a-pop).
Once on the island, women will participate in fully programmed days filled with yoga (occasionally to the musical stylings of Drake, who is, notably, a man), meditation, networking, kayaking, and forest bathing. "Women don't enjoy enough together, there's always been men's clubs, they play golf," says Roth. "It's where ideas are made. But when you get a bunch of strong-willed women together, magic can happen."
Unlike in college, you will not drink in excess with these women until declaring your love for one other in the bathroom of a local bar. Instead, you will cleanse. "It's a time for recalibration without distractions," Roth explains. In place of Natty Light, you will consume things like almonds. The on-site chef promises paleo breakfasts, farm-to-table dinners, and ayurvedic healing through food.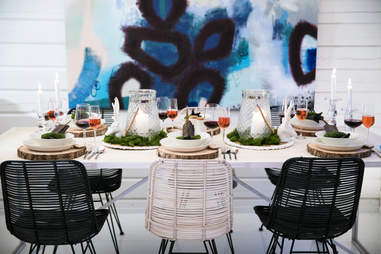 Courtesy of SuperShe Island
"Have you ever wanted to run away to a deserted island, breathe fresh air, swim naked in the sea, and sleep under the stars?" asks the website. Roth's influencer blog-turned-full-service-feminist-oasis is not quite rustic, per the full-fledged Finnish sauna, the glitter grout that seals together the bathroom tiles, and the shimmering toilets, which actually incinerate poop.
"It was like a woman-only summer camp where the message was, Empowerment!" SuperShe guest and Seattle-based psychotherapist, Phoukham Kelly Bounkeua exclaimed in the aftermath of her stay. Bounkeua was one of 140 women selected for the initial SuperShe retreat from a class of roughly 7,000 applicants, all of whom sent in detailed requests, and many of whom interviewed via Skype with Roth herself.
"The ethos here is almost like instant best friends getting together for the first time" Roth explains in a sharp Finnish accent. "It's more like instant family -- if you could choose your family, and you really liked them."
So, if you feel compelled to shell out the entirety of your disposable income for a week of alcohol, caffeine, and testosterone-free daffodil consumption, your very own yurt on SuperShe Island awaits you. New best friends (nay, family) are merely a bonus.
Sign up here for our daily Thrillist email and subscribe here for our YouTube channel to get your fix of the best in food/drink/fun.
Eliza Dumais is a news writer at Thrillist who also owns an island with a no-boys-allowed policy. Follow her on Twitter.