Lyft is Giving Rides In the Ecto-1 From Ghostbusters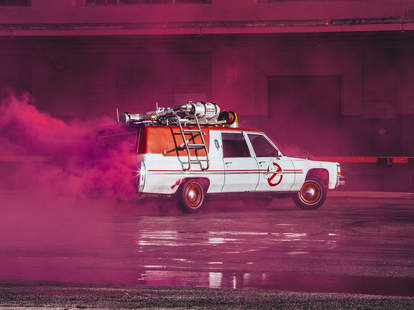 Who you gonna call? Well, Lyft actually, because that's how you're going to get ahold of the Ghostbusters this weekend. If you live in New York City, San Francisco, Los Angeles, Boston or Washington DC you can call up the Ecto-1 to hitch a ride wherever you're headed, even if there are two or three people in there already.
As a promotion for the new Paul Feig-directed Ghostbusters film, Lyft is cruising those cities on July 1 and 2 giving rides in the car made famous by Dr. Peter Venkman and crew. On those dates, between 10am and 8pm, users can flip to "Ghost Mode" and call up a free ride in the Ecto-1, which comes in the original version and a version from the upcoming movie. 
Riders are also getting some free swag, like Hi-C Ecto Coolers and those delicious/disgusting looking green slime Twinkies. Two riders are also going to win a trip the film's premiere in Los Angeles on July 9. You probably don't get to whip donuts trailed by pink smoke like they do in the video below, but it's worth asking.
Sign up here for our daily Thrillist email, and get your fix of the best in food/drink/fun.
Dustin Nelson is a News Writer with Thrillist. He is not the Keymaster. Follow him @dlukenelson.