Lyft is Giving Away Free Rides to March for Our Lives Rallies Around the Country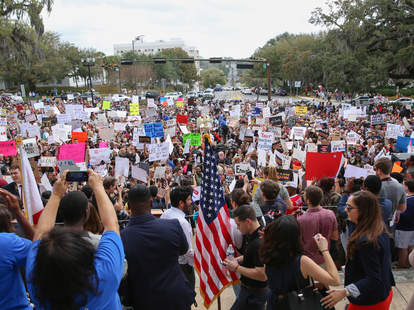 Lots of companies and brands have come out in support of gun control and its advocates in the wake of the tragic shooting at Marjory Stoneman Douglas High School in Parkland, Florida last month, and Lyft is the latest to pony up some real money to help support the cause. The ride-hailing app has pledged to give out free rides to attendees of March For Our Lives rallies around the country this weekend. 
If you're planning to attend one of the many, many official March for Our Lives ralliestaking placearoundthe country on Saturday, Lyft is trying to hook you up with a free and easy way to get there. It's distributing codes that'll cover rides up to $15 in 50 U.S. cities.
Here's how it works: On Friday, Lyft will begin distributing free ride codes to those who've RSVP'd to one of the official March for Out Lives events on this page. If you aren't able to RSVP by Friday, the remaining ride codes will be available on the Lyft website beginning Saturday morning. To redeem one, you simply enter it in the "promos" tab on the app. For it to be applied you'll also need to enter a march "rallypoint" as your destination (though you'll find more details about where those are in your area once you enter the code).
It's also worth noting that Lyft has agreed to pledge $1.5 million in free rides, so once it's given out that much you're out of luck. Here's the full list of cities where free ride codes will be available.
Phoenix, Arizona
Tucson Arizona
Los Angeles, California
San Francisco, California
San Diego, California
San Jose, California
Oakland, California
Sacramento, California
Denver, Colorado
Hartford, Connecticut
Washington, DC
Parkland, Florida
Orlando, Florida
Miami Beach, Florida
Tampa, Florida
Jacksonville, Florida
Atlanta, Georgia
Honolulu, Hawaii
Des Moines, Iowa
Chicago, Illinois
Indianapolis, Indiana
Louisville, Kentucky
New Orleans, Lousiana
Boston, Massachusetts
Portland, Maine
Detroit, Michigan
St. Louis, Missouri
Charlotte, North Carolina
Raleigh, North Carolina
Newark, New Jersey
Las Vegas, Nevada
New York City (Manhattan), New York
Columbus, Ohio
Cincinnati, Ohio
Cleveland, Ohio
Portland, Oregon
Philadelphia, Pennsylvania
Pittsburgh, Pennsylvania
Providence, Rhode Island
Charleston, South Carolina
Nashville, Tennessee
Memphis, Tennessee
Austin, Texas
Houston, Texas
Dallas, Texas
San Antonio, Texas
Salt Lake City, Utah
Richmond, Virginia
Seattle, Washington
Milwaukee, Wisconsin
Sign up here for our daily Thrillist email and subscribe here for our YouTube channel to get your fix of the best in food/drink/fun.